Sentara Halifax Regional Hospital makes donation to Halifax County High School CNA Program
Sentara Halifax Regional Hospital donates $1,000 to the Halifax County High School CNA program as a Thank you for assisting with the Mass COVID-19 Vaccine Clinics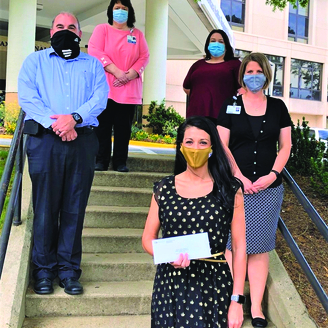 "I am so appreciative of the leaders and staff at Halifax County High School. They provided much needed space for the SHRH COVID-19 vaccination clinics as well as staff to assist. We could not have achieved our success without their support and assistance! It was great to have such a committed community partner to help us in this effort," said Sherri Bee, Director, Cardiovascular Services and Quality.
The amount of time to stand up the COVID-19 vaccination clinics was minimal. The Halifax County High School wasted no time stepping up and offering a space as well as volunteers to make sure these events could take place in our community. This is a small way we can thank them for their partnership.
"Halifax County High School is greatly appreciative of the generous donation to our CNA program from Sentara Halifax Regional Hospital. We have been honored to host and work with Sentara Halifax Regional Hospital in their effort to provide the COVID-19 vaccination clinics and we greatly appreciate their efforts to help keep our community members safe," says Michael Lewis, Principal of Halifax County High School.
---