Sentara Healthcare Moves to Phase 1b Vaccine Administration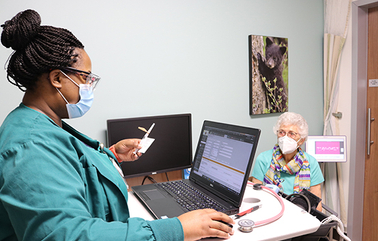 Sentara Healthcare is now expanding to Phase 1b vaccine administration for eligible Sentara Medical Group (SMG) patients in addition to continuing Phase 1a vaccinations for our 30,000+ employees and community healthcare workers across the state.
Sentara is offering a limited number of vaccines to eligible Phase 1b patients in Virginia who have a SMG primary care provider, starting with those who are 75 years and older. We are contacting eligible patients using a phased approach and will expand our clinics depending on future vaccine supply. Eligible SMG patients will be contacted directly through their Sentara MyChart account or by phone/text message when they are able to schedule a COVID-19 vaccine appointment.
Mass vaccination centers are also being stood up in many communities led by the Virginia Department of Health (VDH) and the North Carolina Department of Health and Human Services (NCDHHS). Community members who are not SMG patients but have questions about when and where they can be vaccinated can call the VDH Hotline at 877-ASK-VDH3 (877-275-8343) or the NCDHHS Hotline at 877-490-6642.
By: Lauren Patton
---