Sentara Healthcare Performs Virginias First Donation After Circulatory Death Heart Transplant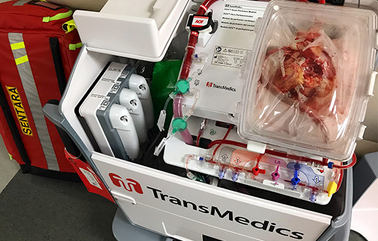 Since the first heart transplant in 1967, there has been a national shortage of donor hearts for people who need them. 59-year-old Edward Godwin suffered from longstanding systolic heart failure and was on several medications and a defibrillator to keep his heart going with no suitable donor in sight. Drugs were no longer enough and he needed an additional mechanical support.
Godwin was admitted to the Sentara Heart Hospital Intensive Care Unit on January 4, 2021. There, a catheter placed in his leg, called an intra-aortic balloon pump, stabilized him while he waited for a suitable donor heart. Time was running out and Godwin was on the urgent part of the transplant list with no guarantee that a suitable heart would arrive in time to save him. A new way of retrieving donor hearts—and transporting them—helped change that.
Sentara Heart Hospital is one of 25 centers nationwide participating in a clinical research trial for a new method of heart transplant called donation after circulatory death (DCD), along with a device that keeps hearts warm and beating during transport. Often referred to as a "Heart-in-a-Box," the Organ Care System (OCS™) Heart is a revolutionary system that preserves donor organs.
After spending three weeks in ICU, Godwin became the first patient in Virginia to successfully receive a DCD heart transplant on January 29, 2021. The Sentara Heart Hospital, the only dedicated heart hospital in the region, provided an experienced and comprehensive care team for this new way to recover hearts.
"Sentara Healthcare is at the forefront of research that could expand the pool of donor hearts available for transplantation, said Dr. Jonathan Philpott, Cardiothoracic Surgeon and the clinical trial principal investigator at Sentara Healthcare. "Through this clinical trial, we are evaluating the effectiveness of the OCS™ Heart System to resuscitate, preserve and assess hearts donated after circulatory death for transplantation. This complex effort would not be possible without our highly skilled care team. Sentara is fortunate in that we have five heart surgeons involved in transplants. In Mr. Godwin's case, we had three out of our five surgeons involved in the procedure. Sentara also has a state of the art perfusion team who supported this case, as well as members from our research staff. Our team of 6 highly trained cardiologists and advanced practice providers worked diligently to support his recovery."
More than three months have passed since he received his new organ, and now-60-year-old Godwin is getting stronger each day. He is looking forward to getting back to life as usual.
As the only heart transplant center in eastern Virginia, Sentara has offered hope for people in need of heart transplants since the center opened in 1989.
For more information, visit sentara.com/HeartInABox
By: Brittany Vajda
---