Sentara Martha Jefferson Hospital Achieves 4th Consecutive Magnet Recognition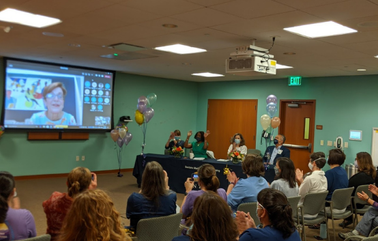 Sentara Martha Jefferson Hospital has attained its fourth consecutive Magnet recognition, becoming the first Sentara hospital and the fifth hospital in the Commonwealth of Virginia to achieve this designation four times. The American Nurses Credentialing Center's (ANCC) Magnet Recognition Program® distinguishes health care organizations that meet rigorous standards for nursing excellence. This credential is the highest national honor for professional nursing practice.
"Achieving Magnet recognition is a tremendous honor as it reflects our success in our goal to hold ourselves to a higher standard of care," said Johnsa Greene-Morris, MBA, MHA, BSN, NEA-BC, Vice President of Patient Care & Chief Nurse Executive for Sentara Martha Jefferson Hospital. "Our nursing team is compassionate, dedicated, and innovative to the extreme, and I am so proud of their commitment to work harder each day to meet the healthcare needs of our patients and the community we serve."
Receiving Magnet recognition for the fourth time since 2006 continues the Sentara Martha Jefferson Hospital's proud inclusion in the global community of Magnet-recognized organizations. Only about 9% percent of U.S. health care organizations out of over 6,300 U.S. hospitals have achieved Magnet designation. Of those, only 107 have been recognized four consecutive times.
"Our nursing teams are committed to provide the best evidence-based care to our patients," said Kelly Via, MSN, RN, NE-BC, Manager of Professional Practice and Magnet Program Director. "Achieving Magnet recognition is more than just an award. It is an important acknowledgement that everything we do is focused on raising the bar for patient care and inspiring every member of our team to provide excellent, compassionate care every single day."
Research by the American Nurses Association and the ANCC and demonstrates that Magnet recognition provides specific benefits to health care organizations and their communities. This includes:
• Higher patient satisfaction with nurse communication, availability of help and receiving discharge information.
• Improved patient safety and quality of patient care.
• Identified excellence in nursing services.
• Fewer workplace injuries for nurses.
• A process of sharing best practices in nursing.
• Increased registered nurse (RN) retention.
• Decreased RN turnover rate.
• Increased RN job satisfaction.
• More opportunities for professional nursing development.
• Lower risk of 30-day mortality and lower failure-to-rescue rates.
• Higher job satisfaction among nurses.
To achieve Magnet recognition, organizations must pass a rigorous and lengthy process that demands widespread participation from leadership and staff. This process includes an electronic application, written documentation supporting 84 defined examples of nursing excellence, an on-site visit, and a review by the Commission on Magnet Recognition.
Health care organizations must reapply for Magnet recognition every four years based on adherence to Magnet concepts and demonstrated improvements in patient care and quality. An organization reapplying for Magnet recognition must provide documented evidence to demonstrate how staff members sustained and improved Magnet concepts, performance and quality over the four-year period since the organization received its most recent recognition.
By: Jenn Downs
---