Sentara Nightingale team flies COVID-19 patients safely
Team devised new protocols to keep flight crew and patients safe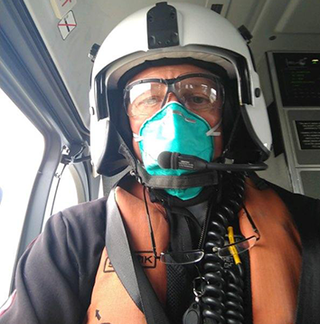 In this age of social distancing, few workplaces require closer contact than the Sentara Nightingale Regional Air Ambulance. With a nurse, a paramedic and a patient on the stretcher, it's a tight space by design. Protecting the flight crew from COVID-19 exposure is paramount.
"We were the first air ambulance in the region to carry known COVID patients," says program manager and flight nurse Denise Baylous. "First, we adopted best practices and devised new protocols to keep our team safe and sanitize the aircraft after flights with COVID patients."
Normal safety gear includes fire-retardant flight suits, a flotation vest and a helmet with built-in headphones and a microphone for talking over the noise of the aircraft. Add a fit-tested N-95 respirator mask and eye protection under your close-fitting helmet and a fabric 'bunny suit' over your flight suit with sealed booties for COVID patients and you have the potential to get very hot while being extra careful how you move.
"We can't use the same PPE hospitals use on the aircraft, so we had to find unique ways to protect ourselves, our EMS partners in the field and others we work with," Baylous says. "We've flown dozens of COVID patients to Sentara Norfolk General Hospital and most of them have been very sick."
One of those patients was Belinda Taylor of Franklin, who works in ER registration at the hospital there. The 48-year-old mother of two had quarantined at home for three weeks with COVID-19 and returned to work for a few days before things went bad.
She woke with gastric pain, nausea and vomiting and went to her own ER at 2:00AM. A CT scan revealed blood clots in the major artery that supplies the digestive system and small intestine; a complication from COVID-19 that can lead to hemorrhage, stroke or sepsis. The hospital called Nightingale for a 20-minute flight to Sentara Norfolk General Hospital.
"The Nightingale crew were awesome," Belinda says. "If they had not flown me to Sentara Norfolk General, I wouldn't be here." She endured three gastric surgeries in a week and lost six inches of her small intestine, but she is alive and well, and grateful to be back at work. "It was nothing short of a miracle, Taylor says."
Once a COVID flight is over, cleaning the aircraft is a job in itself. A normal flight involves wiping down the clinical space and the stretcher surface with disinfectant and changing the linens, a 30-minute task. Cleaning up after a COVID flight can take three hours.
"We have to spray down the back of the aircraft with a viral disinfectant solution and open up all the doors to let the solution dry. The pilot has to clean all the avionics in the cockpit with alcohol. It takes extra time, but we've had to learn to slow down and be intentional in everything we do involving COVID-19 to ensure the safety of our team and our patients."
By: Dale Gauding
---