Sentara Northern Virginia Medical Center begins COVID-19 vaccination clinics for frontline employees
The vaccine is currently administered to Phase 1.A.i. employees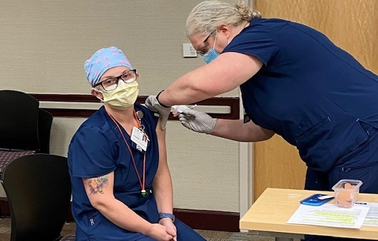 Front-line members of Sentara Northern Virginia Medical Center, who have been dealing with the effects of the COVID-19 pandemic, were the first to receive their vaccinations Thursday morning.
Following CDC and Virginia Department of Health (VDH) recommendations, Sentara is offering the vaccine first to healthcare employees who are at the highest risk for COVID-19 exposure. This includes emergency department staff, ICUs, COVID patient units, respiratory unit staff and hospital staff who provide services in these areas (e.g., ESD, food service, staff who go into patient rooms), among others. The vaccine is voluntary for Sentara employees.
Doris Warner, Director of Patient Care and Emergency Services for both Sentara Northern Virginia Medical Center and Sentara Lake Ridge, received her vaccination Thursday morning, "All of the healthcare front-liners have done an amazing job caring for all the patients that present to this facility. Their never-ending selflessness and dedication is unwavering. The Christmas miracle that we are all receiving in the form of a vaccine is truly a blessing."
Sentara Healthcare received 11,700 doses of the Pfizer COVID-19 vaccine earlier this week and distributed it to its different hospitals. This vaccine requires two doses spaced three weeks apart. Additional shipments with the second dose of the Pfizer vaccine and an initial shipment of the Moderna vaccine are expected to arrive in the coming weeks.
Sentara will expand employee vaccination clinics to other priority groups as more supplies become available. Per VDH guidelines, there are five priority groups in phase 1A (phase 1.A.i - Phase 1.A.v). Sentara will move to Phase 1B – other essential workers (exact list still to be defined by VDH) – after all Phase 1A groups have been given the opportunity to receive a vaccine. We do not expect vaccines to be available to the general public until Spring 2021.
By: Susan Bahorich
---