Sentara PACE centers reopen to seniors post-pandemic
PACE helps qualified seniors remain in their homes as long as possible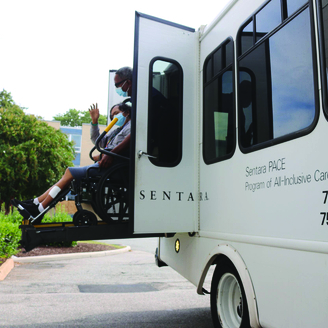 September is National PACE Month - the Program of All-Inclusive Care for the Elderly. PACE is a Medicaid-based program which allows people who qualify for nursing home care to live safely in their homes for as long as possible with PACE support. Sentara has operated PACE since 1996 and offers two sites for day activities in Norfolk and Portsmouth, with capacity for over 300 participants.
During the COVID-19 pandemic, PACE participants continued receiving services while safe at home, and participants experienced significantly fewer COVID-19 infections and deaths compared to nursing home residents. PACE centers are now open again and providing safe surroundings. It's a great time to sign up yourself or a loved one to benefit from PACE services.
To qualify for PACE:
you must be at least 55 years of age,
qualify for nursing home level of care and be able to live safely in the community with PACE support,
live in Chesapeake, Virginia Beach, Norfolk, Portsmouth, Suffolk and the City of Franklin, Isle of Wight and Surry Counties.
A day at PACE includes:
transport to and from the PACE center in a wheelchair accessible van
meals and socialization,
Dietician support and nutritional counseling,
therapeutic recreation,
physical, occupational and speech therapy,
social services support,
physician supervised medical care and wellness checks on site.
Sentara PACE can be reached at 757-252-7800 - Option #2 to arrange a tour, or call toll free: 1-844-757-PACE. Families can also request more information at www.sentara.com/pace.
By: Dale Gauding
---