Sentara patient celebrates unique therapy treatments during National Cancer Survivor Month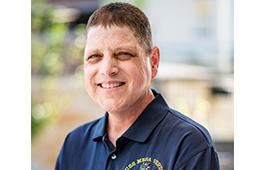 Scott Knorowski has been surviving cancer for the last 25 years.
After his 1997 diagnosis of Hodgkin's lymphoma, Scott was treated with radiation and chemo and went into remission. He continued his career in the U.S. Navy, serving multiple tours overseas and ultimately visiting 46 countries. Scott retired from the Navy as a Master Chief Petty Officer in 2017.
The same year he retired; Scott was diagnosed with stage 2 breast cancer. He had surgery to remove the tumor and additional treatment. Unfortunately, just two years later, Scott was diagnosed with stage 4 metastatic breast cancer that spread to his pleural cavity and bones.
Following multiple surgeries, Scott has experienced reduced breathing capacity, with a 40 percent capacity reduction in his left lung. He couldn't raise his arms, and the scars from surgery were painful to the touch. He sometimes uses a wheelchair because of the intensity of his pain.
His surgeries led to nerve pain, which sidelined Scott from everyday movement. He experiences some relief from his pain with nerve blocks but keeps looking for additional relief. At the suggestion of a nurse practitioner at Sentara Brock Cancer Center, he scheduled an acupuncture treatment at the newly opened Carrillo Kern Center for Integrative Therapies.
Scott admits he was skeptical at first, wondering what difference acupuncture could make when he was already receiving treatment from a pain management physician. Scott had questions, but he was willing to give it a try.
Now, having completed more than a handful of acupuncture treatments, Scott can say the unique treatment therapy has exceeded expectations. He can breathe easier without pain. He can raise his arms, and he doesn't feel numb anymore around his ribs. Scott is able to walk in and out of his appointments without needing a wheelchair.
"Acupuncture therapy is incredible. The therapist knows exactly what she's doing, and it has done wonders for me," said Scott.
"I was in bad shape. The pain was horrible," Scott adds. "Acupuncture has made a huge difference in my quality of life. I was skeptical, but now I recommend it to anyone."
Many cancer patients and survivors are still unaware of the services offered at the Carrillo Kern Center for Integrative Therapies. The unique treatment center opened in April 2022 and offers supportive services to cancer patients and survivors unlike any other provider in Hampton Roads, with a focus on mind, body and spiritual support.
Integrative therapy is an approach to wellness that combines traditional medicine with holistic treatments such as acupuncture, massage, nutrition, reiki, yoga, Tai Chi, meditation, art therapy, pet therapy, and more. The Carrillo Kern Center for Integrative Therapies will be the first in the region to integrate a range of these services into a patient's care plan. Click here for a full description of each of the unique services offered.
Patients are eligible for integrative therapy services from the time of cancer diagnosis through their first-year post-treatment. Services are not limited to patients of the Sentara Brock Cancer Center; any cancer patient or survivor can visit the Carrillo Kern Center for Integrative Therapies. Many of the services are free to patients (such as reiki, group nutrition classes, and art therapy), while other services not covered by insurance will be offered at discounted rates.
Scott says he will continue going to the Integrative Therapy Center, but not just for acupuncture. Scott is a big dog lover, so he's also interested in receiving pet therapy, a form of healing first introduced to Scott during his time in the Navy while stationed overseas.
To learn more about the integrative services offered, please visit the Carrillo Kern Center for Integrative Therapies website or call 757-624-0420. The center is located on the fourth floor of the Sentara Brock Cancer Center at 6251 E. Virginia Beach Blvd, Norfolk, VA, 23502.
By: Kelly Kennedy
---