Sentara RMH Golden Stethoscope Award Winners
Dr. Aklilu Degene and Dr. Earl King are the 2021 recipients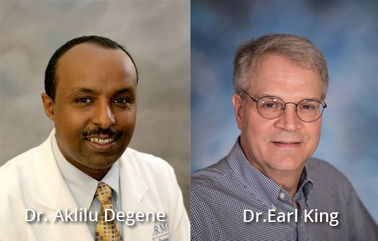 Sentara Pulmonary & Critical Care Specialists Aklilu Degene, MD, and Earl King, MD, have been named the recipients of the 13th annual Sentara RMH Golden Stethoscope Award. The award recognizes outstanding physicians on the Sentara RMH Medical Staff who demonstrate excellence in patient care, customer service, communication and teamwork. The award is announced annually as part of the hospital's recognition of National Doctors Day on March 30.
"We have many talented physicians on our medical staff, and a number of them were nominated for the Golden Stethoscope Award, but it seems especially commendatory that the award this year went to pulmonary and critical care physicians who were, and are, very much in the thick of our battle with COVID-19," said Edward Sandy, MD, executive director, Specialty Services, Sentara Blue Ridge Region. "Each of them is already highly regarded by other members of the caregiving team; the award highlights that high level of respect they have already attained among their co-workers and peers."
Dr. Degene joined the Sentara RMH medical staff in 2005, and Dr. King joined in 2017. Typically, the Golden Stethoscope Award goes to a single physician. However, this year both critical care unit (CCU) physicians received so many nominations it was decided to give two awards, especially in light of the high quality of care Dr. Degene and Dr. King have provided throughout the COVID-19 pandemic in the CCU, as well as across other hospital units.
With nearly 450 physicians on the medical staff, Sentara RMH received 130 award nominations this year. All hospital staff members, as well as staff in the local independent medical practices, can submit nominations.
By: Neil Mowbray
---