Sentara Weight Loss program comes to Sentara Obici Hospital in Suffolk
Services include surgical and medical weight loss programs, counseling and nutrition support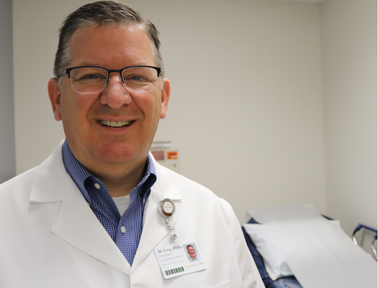 Sentara Comprehensive Weight Loss Solutions is now accepting new patients at Sentara Obici Hospital. The program includes a full array of surgical and medical weight loss options, psychological and nutrition counseling and retail products supporting the weight loss journey, close to home for residents of Suffolk and Western Tidewater.
A board certified general surgeon, Dr. Gregory Adams, has joined Sentara Medical Group to provide bariatric surgery at Sentara Obici Hospital. Dr. Adams brings more than 20 years of specialized bariatric surgery experience to Sentara, including 13 years serving bariatric patients in Hampton Roads.*
"I'm looking forward to partnering with both new and current patients to help them achieve their weight loss goals," Dr. Adams says. "Bariatric surgery works. It is the best method we have for appropriate patients to achieve healthier, more robust lives. Our multi-disciplinary team is here to help those patients succeed on that journey."
The 2018 Community Health Needs Assessment by the Obici Healthcare Foundation found that more than 80% of adults in the foundation's service area were overweight, with a body mass index (BMI) over 25. More than 45% were obese, with a BMI over 30. These percentages were above the average for Virginia, North Carolina and the rest of the country. The foundation's service area includes the City of Suffolk, plus Isle of Wight, Southampton, Greensville, Surry and Sussex Counties and Gates County, NC.
Sentara Comprehensive Weight Loss Solutions is a one-stop resource for patients seeking weight loss and total metabolic wellness. Our comprehensive program provides ongoing support and education throughout the process. Our dedicated care team includes a medical bariatrician, bariatric psychologist and dietician, who work with surgical and non-surgical patients.
"Weight loss surgery is a great tool but it's not a magic wand," Dr. Adams adds. "Patients need to change their eating habits and lifestyles and the best way to succeed is for us to develop relationships. Check-ins with our team help to identify barriers to success and make adjustments to help patients keep the weight off for good."
Patients can make appointments with Sentara Comprehensive Weight Loss Solutions at 1-800-SENTARA (1-800-736-8272).
Sentara Comprehensive Weight Loss Solutions is the latest in a growing number of specialty medical services on the Sentara Obici Hospital campus. A partial list includes cardiology and cardiac intervention, neurology and stroke intervention, cancer care and precision radiation therapy, orthopedic and spine surgery, the Sentara Foot & Ankle Center (podiatry), inpatient behavioral health, family maternity services and pressurized oxygen therapy to speed wound healing. Expansion and modernization of the emergency department, to be completed by the end of this year, will improve the patient experience.
*Dr. Greg Adams earned his medical degree from the University of Alabama School of Medicine. He completed a surgical internship at Portsmouth Naval Medical Center and a surgical residency at the University of Tennessee College of Medicine. He served as a medical officer aboard the USS South Carolina and at Oceana Naval Air Station. He was medical director for a surgical weight loss program in Hampton Roads for nine years before transitioning his expertise to Sentara Medical Group.
By: Dale Gauding
---