SHRH Quality Award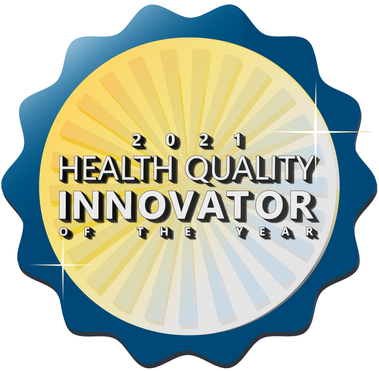 Sentara Halifax Regional Hospital has been recognized as a Health Quality Innovator for 2021. The Health Quality Innovator Awards is the annual awards program created by
Health Quality Innovators (HQI)
that recognizes and celebrates organizations that are using successful, evidence-based approaches to quality improvement.
Sentara Halifax Regional Hospital was selected as a runner up in the Patient Engagement and Activation category for spiritual care, health gardens, a faith story program, appreciation service card program, and chaplain program. This award category recognizes organizations that have made the commitment to partner with patients, families and caregivers to adopt effective patient engagement strategies to ensure care processes are patient-centered.
"We're incredibly proud to be recognized as a Health Quality Innovator of the Year," said Brian Zwoyer, President of Sentara Halifax Regional Hospital. "This is truly a collaborative effort among an incredible team of people working to improve the health of this community."
Sentara Halifax Regional Hospital leverages an active Patient and Family Advisory Council, which provides a non-clinical perspective that offers guidance and recommendations to meet the needs of the local community. In addition to patient-focused services such as spiritual care, health gardens, a faith story program and a chaplain program, this organization helped organize an Appreciation Service Card initiative that allows patients to acknowledge excellent care and service received during their stay. This increased communication has been a morale booster for both patients and employees.
About HQIN
Health Quality Innovators (HQI) is an independent, non-profit consulting organization that offers health care providers practical solutions backed by objectivity and expertise. They consult on complex government healthcare programs, implement change on the front lines of care and shine new light on improvement challenges. HQI serves as the Health Quality Innovation Network (HQIN), bringing together organizations and individuals who are making health care better for millions of Americans through funding provided by the Centers for Medicare & Medicaid Services Quality Improvement Organization Program. Members include hospitals, providers, community-based organizations, health care associations and families. www.hqi.solutions
About Sentara
Sentara Healthcare celebrates 133 years in pursuit of its core mission - We improve health every day. Headquartered in Norfolk, Va., Sentara is an integrated, not-for-profit health system with 28,000 employees serving patients and health plan members across Virginia and northeast North Carolina. Established in 1888 as the 25-bed Retreat for the Sick, Sentara now operates 12 hospitals, two medical groups, a clinically integrated network, numerous ambulatory sites and two health plans, Optima Health and Virginia Premier. Key facilities and programs include the nationally ranked Sentara Heart Hospital, the accredited Sentara Cancer Network, the Sentara Brock Cancer Center in Norfolk, a Level I adult trauma center and the Nightingale Regional Air Ambulance.
Sentara Healthcare prides itself on a positive workplace and a diverse team with a laser focus on safety and quality, clinical innovation, compassionate care and an extraordinary patient experience. The system was named one of IBM Watson Health's Top 15 Health Systems in 2021 and 2018, one of Forbes' America's Best Employers in 2018 and one of Forbes' Best Employers for Women in 2020. We also achieved a perfect 100 on the Human Rights Campaign's 2020 survey of support for LGBTQ+ patients and partners. The Sentara Cares corporate social responsibility program reflects our commitment to our mission by addressing social determinants of health and broadening access to care for all the communities we serve.
By: Joni Henderson
---