Stage IV lung cancer survivor now teaching fitness class for cancer patients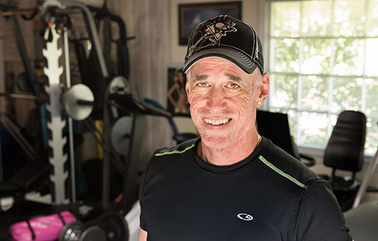 Frank McKenna began his battle against stage 4 lung cancer in 2016. Frank is a personal trainer in Virginia Beach, never smoked, and still remembers the shock he felt when hearing the news. After several treatment attempts, and the good work of his Sentara care teams, a specific gene mutation was identified that allowed for a new type of treatment to successfully fight his cancer.
Frank's cancer scans are now clear, showing no signs of disease! Throughout his cancer journey, Frank became heavily involved in Sentara patient support groups, partnering with lung cancer awareness organizations, and even becoming a certified Cancer Exercise Specialist to advance his personal training company, Beach Better Bodies, to be inclusive for cancer patients.
Frank is now one of the lead instructors for a new healing program at the Sentara Brock Cancer Center called "Wellness Beyond Cancer." It is a free 6-week holistic health, meditation, yoga, and fitness program for Sentara cancer patients. Frank teaches the classes twice a week (currently virtual due to COVID-19) in partnership with Stephanee Howell, owner of Yoga from the Heart.
"What we're trying to do is look at the entire person affected by cancer," Frank said. "Not only do we focus on physical exercises that help build and maintain strength to perform daily activities, we also focus on mental and relaxation techniques to support a sense of peace and balance."
Through this program, Frank and Stephanee help patients regain muscle strength and flexibility needed for daily living, allowing them to stay active and incorporate movement into their routine.
They also provide resources for patients to use and practice with in between sessions and after the program's completion, so even after the program they can continue to build upon their progress.
"Just completing 6 weeks of instruction isn't enough. The importance of physical health and the importance of mental strength to fight against the fear and uncertainty experienced by so many cancer patients is ongoing," Frank explains. "That's why we also have a weekly program our participants can enroll in after the initial course that allows them to continue to connect with us for support throughout their journey to wellness."
The Wellness Beyond Cancer program is one of many ways cancer patients and their families receive holistic support for all their needs at the Sentara Brock Cancer Center. The building was designed with the patient's health journey and customer experience as a top priority. A few other services patients can expect are:
A calming environment that includes an outdoor Healing Garden and quiet family work stations for caregivers as they assist their loved ones at appointments
Support services for advanced illnesses, including Sentara's first outpatient palliative care clinic in the Hampton Roads community
Complementary alternative medicine therapies, such as massage, art, and music therapy
Silhouette Mastectomy Boutique - A retail shop for wig services, headwear, and mastectomy products
A rehabilitation gym with two certified lymphedema therapists
To take a virtual tour of the Sentara Brock Cancer Center and learn more about its services, visit www.SentaraBrockCancerCenter.com. The Wellness Beyond Cancer program is now taking registrations for its February classes. If interested, call 1-800-Sentara (1-800-736-8272) to register.
By: Kelly Kennedy
---