National Minority Health Month: Cancer Doesn't Impact All of Us Equally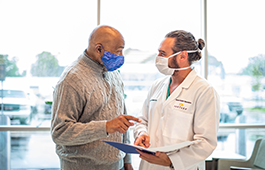 Every April, the U.S. Department of Health and Human Services Office of Minority Health observes National Minority Health Month to highlight the importance of improving the health of racial and ethnic minority communities and reducing health disparities. Sentara Healthcare strives to provide all patients with culturally and linguistically appropriate information and to help create healthier outcomes for ethnic minority communities.
Darrel Isaac, Oncology Community Educator at Sentara Norfolk General Hospital and Vanessa Hill, Health Equity Manager reflect on cancer health disparities in our communities.
Cancer can impact us all, but it doesn't impact all of us equally.
Some of the cancers that disproportionately affect Black Americans are prostate, colorectal, and breast, to name a few. The frequency with which these cancers occur, and the death rates, are higher in Black Americans.
Black American men are 1.7 times more likely than white men to be diagnosed with prostate cancer and 2.1 times more likely to die.
From 2012 to 2016, colorectal cancer incidence rates were 20% higher for Black Americans than White Americans and the death rates were 40% higher.
While White women may have a higher incidence of breast cancer, Black women tend to be diagnosed at a younger age.
Black and Hispanic women are diagnosed with more aggressive breast cancers than white women. Endometrial cancer, the most common gynecological cancer, occurs more frequently in Black women than other women. However, Black women are two times more likely to die from it as diagnoses tend to happen at a later stage with a more aggressive cancer.
Across the board, Black Americans endure the shortest survival time and highest death rates of any racial group for most cancers and are disproportionately burdened by cancer. The root cause for these disparities are multidimensional and reflect social, economic inequalities and cultural differences that contribute to disparate health outcomes.1
Can cancer be prevented?
A substantial proportion of cancers are preventable. In all racial groups across the spectrum in the United States, at least 42% of new cancer incidences are arguably avoidable. This includes smoking-related cancers and those caused by excess body weight, physical inactivity, excess alcohol consumption, and poor nutrition.2 For these reasons, the disparities and inequities impacting Black communities highlight the need for targeted interventions and control strategies.
It's important for all individuals, especially those in Black communities, to understand the importance of annual health screenings where many warning signs of cancers can be identified and treated. Additionally, we should be empowering all individuals to have dinner table conversations with their families about their unique health history. Family history is a risk factor for many types of cancers. From those conversations, patients are better equipped for conversations with their healthcare providers, to advocate for themselves, and to determine lifestyle factors in their own lives that they can change.
How does Sentara help reduce cancer disparities?
At Sentara, community engagement is the crux of our planning process and policies. Our programs reflect the voices of our communities and the changes they want to see. One example of how we captured this feedback is through the Community Health Needs Assessments (CHNA).
The CHNA surveys a cross-sectoral group of community members about health concerns and ways to advance health equity in the communities we serve. As a result, Sentara actively works to reduce structural barriers to facilitate access to cancer screenings by:
Offering services in alternative or non-clinical settings (e.g., mobile mammography vans at worksites or in residential communities).
Eliminating or simplifying administrative procedures and other obstacles (e.g., scheduling assistance, patient navigators, community health educators, transportation, dependent care, support groups, ambulatory care clinic)
Additionally, the Sentara Health Equity team partners with cancer educators and physicians to educate the public through specific cultural lenses. Not every message works in all communities. We build relationships with trusted voices to disseminate timely and factual information and work to break down barriers and increase access to screenings within the community.
References:
1. https://www.cancer.org/content/dam/cancer-org/research/cancer-facts-and-statistics/cancer-facts-and-figures-for-african-americans/cancer-facts-and-figures-for-african-americans-2019-2021.pdf
2. Islami F. Goding Sauer A. Miller KD, et al. Proportion and number of cancer cases and death attributable to potentially modifiable risk factors in the United States. CA Cancer J Clin. 2018;68(1):31-54.
By: Sentara Health Equity and Oncology Community Educator teams reflect on cancer health disparities in our communities.
---