Sentara Health invested $260 million in Virginia and North Carolina communities in 2022
Community engagement and impact initiatives are working to care for the uninsured and underinsured, tackle health inequities, and address social determinants of health.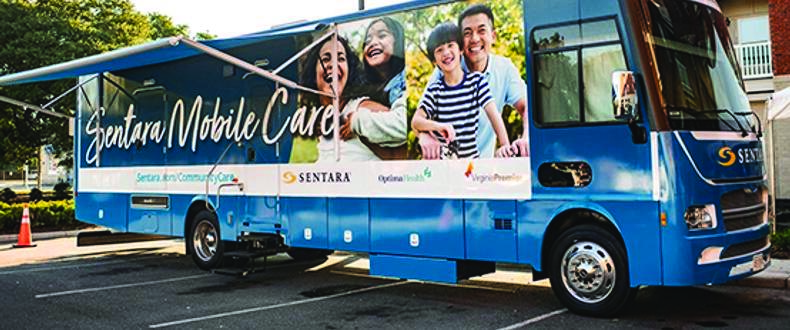 Hampton Roads, Va. (May 22, 2023) - In 2022, Sentara Health invested more than $260 million to support communities in Virginia and North Carolina. This includes $6.7 million in health and prevention programs, $48.5 million in teaching and training opportunities for healthcare professionals, $48 million in community giving, and $157 million in uncompensated patient care. These investments build upon Sentara's commitment to create healthier communities through partnerships with organizations and individuals by meeting them where they live, work, worship, and learn.
Sentara is dedicated to promoting health equity and ensuring that all members of its communities have access to the necessary resources for optimal health and well-being. Various environmental factors, such as birthplace and location of residence, education, employment, recreation, and religion, significantly impact overall health. In fact, these factors account for nearly 80% of health outcomes, while direct healthcare only accounts for 20%.
"For more than 130 years, Sentara's presence in our communities has never been defined solely by our hospitals and clinics," said Sherry Norquist, MSN, RN, executive director of community engagement and impact at Sentara. "We've constantly searched for ways to strengthen our communities - and every individual who calls those communities home - by looking farther 'upstream' to address root causes of health disparities and to improve community conditions. By listening and striving to be a partner to both community and faith-based organizations who share our mission, we can be an anchor upon which our entire communities can rely."
Addressing health disparities requires more than medical interventions. By engaging directly with individuals in underserved communities where they live and work, Sentara can help eliminate health disparities and promote access to nutritious foods, education, safe and affordable housing, and fulfilling employment opportunities. Additionally, through collaboration with community organizations, Sentara aims to identify and address the root causes of health disparities and work towards sustainable solutions.
Sentara Community Engagement and Impact Highlights in 2022
Conducting Community Health Needs Assessments (CHNAs): Sentara conducts comprehensive community health needs assessments (CHNAs) for each of its inpatient hospitals and outpatient surgical centers across Virginia and Northeastern North Carolina. The assessments blend community input with various data points to help understand disparities that exist in vulnerable populations.
Sentara's mission is to improve health every day. Sentara achieves this in part through the
day-to-day healthcare services they provide to their patients. But to truly improve the overall health of the communities they serve, Sentara must listen to the voices of the individuals residing within the community.
The CHNAs findings will guide Sentara's mission and advance their work over the next three years to address three overarching and interconnected focus areas: behavioral health, chronic disease, social drivers of health.
Increasing Access to Care: In August of 2022, Sentara launched Sentara Community Care, an innovative healthcare model that brings care directly to the community. With two Sentara Community Care Centers located in Norfolk, Va. in the Berkley neighborhood and inside the Union Mission homeless residential facility and a Sentara Mobile Care mobile care vehicle servicing the entire Hampton Roads, Va. area, Sentara Community Care offers neighborhood-level access to holistic care for Medicaid members, and uninsured and underinsured individuals.
Sentara Community Care aims to reduce the traditional barriers of health and wellness by providing consistent, embedded medical and wrap-around services in neighborhoods that historically lacked access, have known health disparities, and statistically experience worse health outcomes.
Already, Sentara Community Care has achieved measurable results for the community. Since its August 2022 launch, the Sentara Community Care program has assisted more than 2,150 individuals. After the Sentara Community Care center in the Union Mission homeless residential facility opened, the number of EMS calls/transports of Union Mission residents to Sentara emergency departments was reduced by 80%.
Sentara will expand its Sentara Community Care program across the state and will soon begin offering services in Richmond, Petersburg, Harrisonburg, Newport News, and surrounding counties in 2023.
Fighting Food Insecurity: In 2022, Sentara continued partnering with the Federation of Virginia Food Banks in the fight against food insecurity. Along with other healthcare organizations, community members and other not-for-profit service organizations, Sentara and the Federation of Virginia Food Banks developed a statewide healthy pantry model. This shared model outlines more than 20 practices that pantries can implement to spark better health outcomes. Based off this model and community research, the Federation of Virginia Food Banks will support 20 to 30 community organizations with funding and other tactical support in the coming year. Some of these locations will be co-located within Sentara Community Care Centers and Sentara Mobile Care.
Additionally, with Sentara's investment, the Federation of Virginia Food Banks was able to hire a nutrition benefits outreach coordinator. The coordinator works directly with Virginia's seven food banks to strengthen outreach and promote awareness. From July through December 2022, nearly 1,000 Virginians were assisted with SNAP applications.
Increasing Affordable Housing Availability: Sentara seeks to provide housing solutions for members of the community by partnering with agencies and community organizations. In 2022, Sentara invested $11 million to support the Marshall-Ridley Choice Neighborhood Initiative in Newport News, Va. The contribution will help with the initiative's plans to build modern townhomes and apartments with included space for retail and other small businesses.
Sentara is committed to partnerships, such as the Choice Neighborhood Initiative, which leverages public and private investments to replace distressed public housing and transform neighborhoods of concentrated poverty into neighborhoods of opportunity.
"Sentara's support of the Marshall-Ridley Choice Neighborhood Initiative is another step in our ongoing journey to improve community health and wellness, create economic opportunity, and address social determinants of health," said Aubrey Layne, executive vice president of governance and external affairs for Sentara Health. "We are pleased to serve as a trusted community partner in this exciting initiative as we collaborate to bring hope, health, opportunity, and critical services to the residents of Newport News and the surrounding communities."
Additional Sentara Impact
Sentara donated $10 million to nearly 170 partner organizations throughout Virginia and North Carolina. The investments directly supported programs and initiatives that address social determinants of health and promote health equity.
In addition, Sentara employees donated more than $1,371,000 to the United Way and other regional nonprofits as part of its 2022 United Way campaign. Team members also had the opportunity to increase their charitable giving through the Sentara Charitable Matching Gift Program benefit. Through this match, Sentara donated an additional $595,000 to help promote healthier communities and invest in the organizations that mean the most to its employees.
To learn more about Sentara's commitment to the communities it serves, visit SentaraCares.com.
By: Dale Gauding
---