Sentara's High Risk Breast Program helps women make informed choices
Family histories, genetics, imaging, labs help determine breast cancer risks

Kim Mikel's breast cancer journey began several years ago with a call from her older sister. She wanted Kim to know she had been diagnosed with triple-negative breast cancer, a rare, aggressive and invasive cancer, with fewer treatment options than more common types. With no history of breast cancer in their family, she wanted Kim to find out if she was at risk. Kim got her annual mammograms religiously and showed no signs of cancer. That changed in early 2023.
Kim received a call from Mary Berry, a Nurse Practitioner at the Dorothy G. Hoefer Comprehensive Breast Center at the Port Warwick health campus in Newport News. Kim's sister's cancer experience made Kim a candidate for Sentara's newly developed High Risk Breast Program, and Mary invited her to come in. A thorough family history and subsequent MRI identified cancer in one breast. Further laboratory studies found atypical cells in both breasts and Kim was deemed at considerable risk. In March of 2023, Kim opted for a preventive double mastectomy and is glad she made that pivotal decision.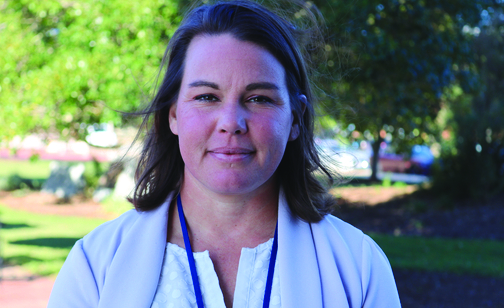 "I can't say enough about the program," Kim said. "They caught my cancer early and Mary provided me with knowledge that helped me make the right decision for me."

Kim wants other women to know about the Sentara High Risk Breast Program so they can make informed decisions about their own health. "Our first visit with a new patient takes about an hour," Mary Berry said. "We do a complete family history, determine the patient's high-risk status, and order any additional imaging, such as breast MRI, that may be indicated. If genetic testing is indicated, we can accomplish that at the time of the visit with a saliva sample."

"The purpose of the High-Risk Breast Program is to empower women to make informed decisions about their health," said Physician's Assistant Vicky Gaddis, who works with the program at the Sentara Brock Cancer Center in Norfolk. "We offer personalized surveillance plans based on national guidelines and we educate women on ways to reduce their breast cancer risk."

Mary Galli was familiar with cancer, as many of her family members had the diagnosis, but did not know how it increased her own risk for the disease. Mary's paternal grandmother had a double mastectomy and later died from breast cancer. An aunt had breast and ovarian cancers. Her mother had ovarian cancer. Despite the prevalence of cancer in her family, it was not discussed, and Mary did not have her first mammogram until age 46. The mammogram revealed a lump in her breast that is currently being monitored.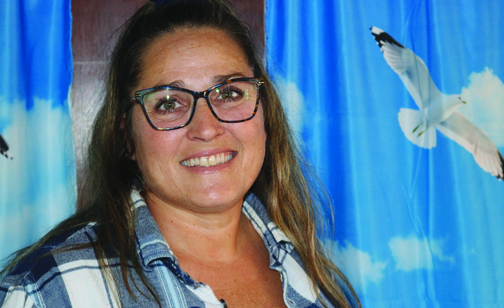 Vicky Gaddis is helping Mary Galli on her journey, which includes genetic testing that identified a gene mutation putting her at increased risk for breast, ovarian and pancreatic cancer. The watchwords now are vigilance and prevention.

"It's a blessing to have this knowledge," Mary Galli said. "I'm not scared, I'm relieved," she added, to be able to make informed decisions and take preventive steps. "They were on top of it."

Two years ago, Mary had a hysterectomy for lesions on her uterus but kept her ovaries. Now, she's having those removed to prevent ovarian cancer. She credits the Sentara High Risk Breast program for giving her the information and knowledge to decide. "It's a smooth process," Mary said, "and the support they provide is tremendous." Another key player on the team is the oncology nurse navigator.

Vanessa Rizzie, oncology nurse navigator at the Sentara Brock Cancer Center describes herself as "the foot in the door" for new patients. Vanessa reviews mammogram results and initial family histories every day. She is often the first person to contact patients to suggest that they enroll in the high-risk program. That's when patients can start to feel overwhelmed.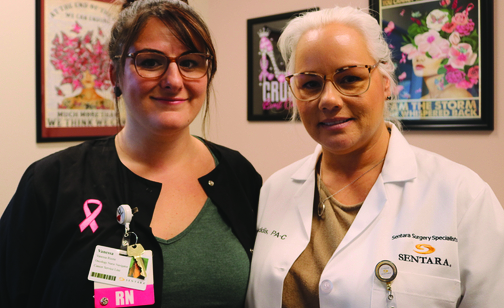 "As navigators, we ensure they are never alone in the journey," Vanessa said. "We provide help with transportation, insurance and finances, care coordination and active listening. We're with them from the initial consultation, and if they are diagnosed with a cancer, as Ms. Mikel was, we're with them through the end of active treatment, when they enter survivorship." Cancer patients and survivors have access to a several groups, classes, and other resources to support their physical and emotional well-being. A peer mentoring group called Imerman's Angels pairs recently diagnoses cancer patients with other survivors of similar diagnosis for emotional support and encouragement.
Who is at higher risk for breast cancer?
Family history of breast or ovarian cancer.
Hereditary gene mutation.
First period younger than 12.
Having first child after 30 or not having children.
Having dense breast tissue as determined by a mammogram.
Having more than one alcoholic drink per day.
Using combined estrogen and progesterone HRT after menopause.
Being of Ashkenazi Jewish descent.
Begin your journey to cancer prevention by visiting www.sentara.com/highriskbreast or calling call 757-624-0194.
---