Let's not meet by accident: Sentara trauma team warns of common summer injuries
Each year as the sun shines longer and the temperature rises, so does the number of trauma patients being cared for at Sentara trauma centers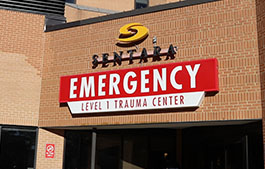 Think of a hospital trauma center and you might think of gunshot wounds and stabbings, right? As Medical Director for Sentara's Level 1 Trauma Center tells us, the truth is most traumatic injuries are accidental, and many happen at home.

Sentara Health and Eastern Virginia Medical School have partnered for 38 years, operating the regional Level I Adult Trauma program at Sentara Norfolk General Hospital in Norfolk, Va. This life-saving program serves eastern Virginia and northeast North Carolina and is one of just six Level I trauma centers in Virginia.

At the end of June 2023, the Level 1 trauma center at Sentara Norfolk General Hospital treated nearly 94,000 trauma patients in its 38-year history.

Jay Collins, MD, medical director for trauma at Sentara Norfolk General Hospital and chief of trauma and critical care at Eastern Virginia Medical School explains why accidental trauma injuries are more common than you might think.

"So far this year we have cared for gunshot and stabbing victims, yes, but also thousands of motor vehicle accidents, falls at home and work, and burns. Sentara team members even treated some shark bites. Statistically, only 13% of trauma patients are from gunshot wounds and stabbings; what we called penetrating injuries. Accidental injuries are much more common.

Trauma Centers are for everybody
Virtually anyone from any walk of life can wind up in a trauma center through bad luck, carelessness, or reckless behavior. Older adults are also living longer, sometimes alone, with an increased likelihood of home-related traumas from falls and burns. There is a tendency for more auto accidents as people age. Our trauma center has programs in place to make our community safer.

AARP Smart Driver courses
Motor vehicle crashes makeup 37% of the injuries treated at Sentara Norfolk General Hospital, and 29% of those injuries involve drivers over 50. The Sentara trauma team and AARP offer the AARP Smart Driver course for senior drivers over age 50. The Smart Driver course helps senior drivers refresh their skills and learn the new rules of the road. The course consists of two four-hour sessions on Mondays and Tuesdays at the Food Bank of Southeastern Virginia and the Eastern Shore in Norfolk. Classes are scheduled in July, September, and November. It's just $20 for AARP members and $25 for non-members. Register by calling 1-800-SENTARA.

Burn prevention keeps seniors safe at home
Burns are a particular concern for the very young and the very old. Toddlers are notorious for pulling pots off stoves and scalding themselves. They stick pins in sockets, play with matches and bump into the backyard grill. Scalding from microwaved noodles is also common. But kids are resilient burn patients, while elderly patients are not. Thinning skin, osteoarthritis, and chronic conditions make it harder for seniors to do the hard work of rehabilitation, which can result in a long health decline.

There's a growing movement for burn prevention among the elderly by helping them adopt safer habits in the home, especially in the kitchen. For instance, not wearing robes or big sleeves near stove burners can help avoid clothing fires and snagged pot handles. Keep pets and kids away from the stove area to prevent trips and falls with hot pots.

Bedrooms need their own smoke alarms and clear paths of escape. Glasses, a flashlight, and a telephone should be within easy reach of the bedside table. Keep space heaters a safe distance from bedclothes and drapes. Indoor smoking is both a health and fire risk.

Beach burns
Think beyond sunblock at the beach. Avoid burns on the bottoms of your feet by wearing surfer shoes or Crocs on hot sand or throw down your beach towel and walk on that. If you burn your feet, go to an urgent care or ER for proper treatment.

DIY injuries
We see trauma patients of all kinds who hurt themselves with tools. Woodworking saws, chain saws, sanders, drills, routers, lawn mowers and other machines with whirling blades and moving parts can do untold damage, including traumatic amputations and eye injuries. I once removed a three-inch nail from deep inside a construction worker's chest, accidently fired from nail gun. Wear hand, eye and hearing protection when using power tools. We see patients with broken bones and brain injuries from falling off ladders. Honestly self-assess your physical capabilities and stay within the rails to avoid falls.

Sports Injuries and Pickleball
A large health insurance firm recently noted rising utilization rates for hip replacements, knee surgeries and other orthopedic procedures. Analysts suggest that the meteoric growth of pickleball could be driving a spate of injuries, including fractures to the wrist and lower legs. About a third of the most frequent pickleball players are adults over 60.

Exercise is a good thing for your body, mind and spirit. My advice: Assess your physical condition and capabilities realistically and plan a routine within your limitations. Ask your health care provider about the safest and most beneficial exercise for you based on your current state of health and goals. Maybe brisk daily walking is more your speed?

Trauma has lasting effects on families
The average flight time for trauma patients on Nightingale Air Ambulance is about 20 minutes, but the effects of a traumatic injury can last a lifetime. After resuscitation and evaluation in the trauma bay, patients may stay days or weeks in the hospital having multiple corrective surgeries or skin grafts for burns. Recovery may continue in a rehabilitation center or skilled nursing facility. There may be months of outpatient rehabilitation, lost wages and maxed-out insurance benefits, co-pays and deductibles that stress your finances. Brain injuries from car wrecks, falls or fights can cause life-long deficits in cognition and speech and the ability to earn a living. Prolonged recoveries can be a physical and emotional drain on loved ones providing care and support. The ripple effects of trauma reach far and wide and sometimes last forever. Prevention is key.

"Be safe out there, and let's not meet by accident."

Jay Collins, MD, is the medical director for trauma at Sentara Norfolk General Hospital and chief of trauma and critical care at Eastern Virginia Medical School.
---