Inspired by husband's care, widow embarks on career journey to become a Sentara nurse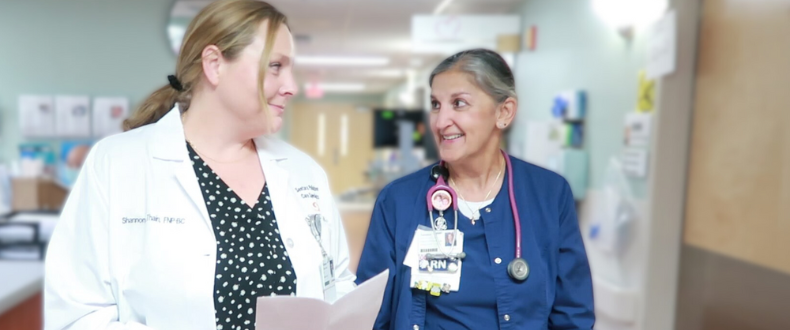 Sangita Seaburg didn't know she wanted to be a nurse until she became a widow.
Sangita's husband, Warren, was a well-known musician and worship leader in Virginia Beach, Va. Warren passed away in 2011, at the age of 53, after a 20-year battle with cancer. Warren and his family spent much of the final weeks of his life on the oncology unit at Sentara Virginia Beach General Hospital (SVBGH).
"I was there with him day and night, I never left his side," said Sangita, his wife of 21 years. "The nurses made sure I had a chair which folded out into a bed so I could sleep comfortably. They even brought the chair up to the intensive care unit when Warren was transferred there."
Sangita and Warren's daughter, who was 10 years old, also spent time with her dad in the hospital. "The night nurse would take my daughter out to the nurse's station. She'd get her a snack and braid her hair which made her feel special. The nurses weren't just taking care of Warren, they were taking care of us too," said Sangita.
When Warren was transferred to hospice care, Sangita couldn't help but think of what life would be like without him and how she would soon become the sole caregiver to three children.
"I had a business degree, but I didn't want to work long hours away from my kids," said Sangita. She thought about the nurses who had been taking care of Warren, and that's what sparked a life-changing thought.
"The care my husband received inspired me to become a nurse and I went to nursing school specifically to come work on the oncology unit at Sentara Virginia Beach General Hospital," said Sangita. "I hadn't been to school in 25 years, so the thought was a little daunting, but I just felt it was what I needed to do."
Sangita took a job as a patient care technician at SVBGH. Going to school, working full time, raising three kids, and grieving the death of her husband was no easy feat and Sangita said she couldn't have done it alone.
"Different people in the neighborhood would come and get my kids and drive them to school for me. People from my church were praying for me and my family," she said. "It took a village to help us get through that time."
Immediately after Sangita graduated nursing school she accepted a registered nurse position on the oncology unit at SVBGH – the very unit where she spent so much of her time several years before.
"On my first day I remember talking to Donnalyn, a patient care technician who had taken care of my husband. I said, "Donnalyn I can't believe I'm here now as your coworker. I just can't believe this is what I get to do."
Sangita began providing care to patients and families who were going through a similar experience as she had gone through.
"I'll always ask patients if somebody's spending the night and I make every effort to get them a chair that pulls out into a bed because I know how much it meant to me," said Sangita.
As the years go by, Sangita's passion for nursing continues to grow. She earned her Master of Nursing degree in 2020 and is on track to get her Doctor of Nursing Practice.
"I know I will not be able to be a bedside nurse forever. My doctorate degree will allow me to provide education for our future nurses," said Sangita.
To learn more about nursing opportunities at Sentara, visit www.sentara.com/nursing
---