Nine Sentara hospitals recognized for excellent stroke care
'Get With the Guidelines' honor roll cites quick responses with clot busting drugs, interventions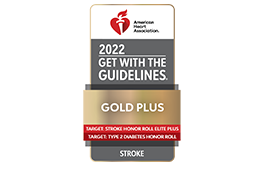 Nine Sentara Healthcare hospitals in Virginia and North Carolina have been recognized for excellence in stroke care by the American Heart Association and American Stroke Association's joint 'Get With the Guidelines' (GWTG) program. GTWG recognizes emergency and neurology teams who routinely give clot busting drugs and/or achieve medical intervention within a recommended 'thrombolytic window' to achieve the best outcomes.
"If you are suffering a stroke, every moment counts to save brain tissue and improve outcomes," says Alexander Grunsfeld, MD, medical director for Sentara Neurosciences. "The goal is to begin treatment within 60 minutes of arrival to the hospital. Our honor roll hospitals meet that standard more than 85% of the time. We're proud of our stroke performance because it can mean better outcomes for our patients."
The Sentara Hospitals that received this recognition are:
Sentara Albemarle Medical Center – Elizabeth City, NC
Sentara CarePlex Hospital – Hampton, VA
Sentara Leigh Hospital – Norfolk, VA
Sentara Martha Jefferson Hospital – Charlottesville, VA
Sentara Norfolk General Hospital – Norfolk, VA
Sentara Northern Virginia Medical Center – Woodbridge, VA
Sentara Princess Anne Hospital – Virginia Beach, VA
Sentara RMH Medical Center – Harrisonburg, VA
Sentara Virginia Beach General Hospital – Virginia Beach, VA
One way Sentara meets this high standard is with TeleStroke technology - a remote, video-based system that allows immediate access to neurologists. The remote neurologists work with a specially trained team of onsite nurses, physicians and surgeons, to deliver rapid, life-saving care.
Sentara Norfolk General Hospital and Sentara Martha Jefferson Hospital in Charlottesville are rated as Comprehensive Stroke Centers. These centers provide 24/7 access to endovascular surgeons who specialize in treating severe strokes with a procedure called a thrombectomy. This is a catheter-based intervention to remove blood clots from the brain. All Sentara stroke centers provide high-quality stroke care including physical, occupational and speech therapies to help survivors achieve optimal functioning.
"A stroke can be a life-changing medical event," adds Dr. Grunsfeld. "Early intervention is paramount to survive and thrive and Sentara hospitals are prepared around the clock every day."
BE FAST with Stroke
If you suspect someone is having a stroke, BE FAST. Observe their Balance, Eyes, Face, Arm, Speech and Time. Time is key. Time is brain. Call 911. Be prepared to tell first responders when the patient was 'last known well' to help our health care team determine the best options for treatment. Learn more about Sentara Neurosciences by clicking here.
By: Dale Gauding
---