Sentara Careers Camps inspires the next generation of diverse health care professionals
Three Sentara hospitals provide hands-on training in healthcare careers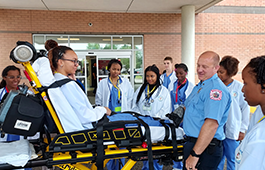 Middle school students throughout several communities in Virginia spend a week with Sentara Health medical professionals to learn about careers in healthcare, such as medicine, nursing, physical therapy, imaging services, and emergency services. Students will enjoy hands-on learning including CPR, pharmacy robotics, bandaging, setting casts, suturing (on fruit!), simulated IV placement, and making healthy meals.
In Hampton, Va., a wind-blown drizzle did not stop more than 20 Newport News public school students from crowding behind an ambulance outside the emergency department at Sentara CarePlex Hospital. The students were learning the duties and skills required of paramedics. Some of the rising eighth and ninth graders, dressed in scrubs and white coats, climbed into the patient area, while another group listened to a paramedic explain the workings of a motorized stretcher and portable equipment.
"We can start IV lines," said the veteran firefighter/paramedic. "We have an EKG machine on board to monitor the heart. We have medications we can inject into patients for a stroke," he said. "We talk to the emergency room on the radio while we're on the road, and they suggest what we should do before we get to the hospital."
The careers camp focuses on attracting racially diverse populations to healthcare professions.
"We have to get them young," said Dana Beckton, Chief Diversity Officer for Sentara Health. "Only five percent of physicians in America are black, 5.8 percent of physicians are Hispanic, and we know that from a health outcomes perspective, when patients can see and interact with physicians that look like them have that same lived experience, it is so important."
Not everyone needs to be a doctor or a nurse to serve an important role in health care. Sentara, an integrated system with 30,000 employees, currently has more than 1,800 positions posted for a wide variety of jobs, some of which support the clinical staff.
The camps will be held at three Sentara hospitals this summer. The students at Sentara CarePlex graduated on June 23. Other week-long camps are scheduled at Sentara Obici Hospital in Suffolk and Sentara RMH Medical Center in Harrisonburg in July.
---