Sentara expands on its commitment to diversity and inclusion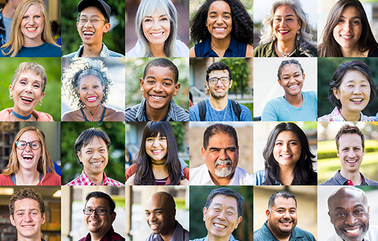 Last year, Sentara celebrated a number of accomplishments in the first year and a half of its Diversity and Inclusion program. Leaders and team members from across the system contributed to these initiatives that include:
Earning LGBTQ Healthcare Equality Leader designations at all Sentara hospitals
Creating the framework to establish diversity councils at all Sentara hospitals, headed by the hospital presidents
Forming partnerships with community organizations and faith-based leaders
Working with these community partners through a number of Sentara teams – including Health Equity, Sentara Medical Group (SMG) and the COVID-19 Task Force – to provide thousands of free COVID-19 tests to underserved communities
Since then, we have continued to expand on this commitment, which also has meant expanding the resources needed to support it. The team, now known as the Center for Diversity, Inclusion, and Cultural Competency (CDICC), has doubled in number over the past month.
"We are proud of all we've accomplished so far, and remain committed to sustaining and expanding these strategies across the organization," said Becky Sawyer, Sentara Healthcare's Chief Human Resources Officer. "We have a strong team focused on this effort, but everyone at Sentara is ultimately responsible for ensuring more inclusive and equitable experiences for our colleagues, patients and communities."
Supporting Our Teams
Internally, Sentara has set goals to increase career opportunities and promotion rates of women and minority leaders into director- and vice president-level roles through intentional pipeline development and documented succession planning.
"Creating true inclusion starts from within," said Dana Beckton, Chief Diversity Officer, who was recently named to the Board of Directors for the Virginia Center for Inclusive Communities. "Fostering a culture at work that embraces, respects and appreciates our differences has powerful positive effects on the employee experience, the patient experience, and our ability to support our communities."
Examples of some of the work Sentara has accomplished over the last year to support all our team members include:
In early 2020, CDICC, in partnership with Sentara's Communications team and internal experts, hosted a number of virtual "Safe Space" discussions about the COVID-19 vaccines. The sessions provided education about the vaccines and the historical roots around hesitancy in communities of color, dispelled vaccine-related myths, and was a judgment-free space for team members to express concerns, ask questions and get real-time answers from trusted experts.

As a part of Celebrate Diversity Month in April 2021, Sentara and the hospital diversity councils spotlighted the importance of learning, using, and respecting an individual's personal pronouns. Sentara team members were encouraged to add their pronouns

to their email signatures and the diversity councils ordered pronouns pins to wear while at work and distributed them to interested staff.


In addition to the hospital diversity councils established in 2019 and 2020, an executive diversity council held its inaugural meeting in 2021, headed by Sentara Healthcare President and Chief Executive Officer, Howard P. Kern.
Beyond Our Walls
Over the last year, Sentara has also engaged in new ways to support patients and our communities by improving diversity and inclusion in healthcare.
In April 2021, Sentara joined Amazon, Apple, Disney, GE, Google and other leading corporations as a corporate member of the Leadership Council on Legal Diversity (LCLD). Sentara is one of only a few member healthcare systems.
"Creating opportunities for underrepresented communities is important to me and I am personally committed to recruiting, developing and retaining diverse team members and future legal leaders," said Chief Legal Officer Louis Patalano, who is Korean-American, serves as vice-chair of the University of North Carolina - Chapel Hill Alumni Committee for Racial & Ethnic Diversity and is a founding supporter of Miranda Family Fellowships at Woolly Mammoth Theatre in Washington, D.C. "I'm proud to work for an organization like Sentara that sees value in diverse hiring and engaging with partners that create real opportunities that extend outside of our hospitals and offices."
Here are some of the additional ways Sentara is working to improve diversity and inclusion in our operations and communities:
Looking Forward
Looking toward the next year, the Sentara CDICC is committed to finding new opportunities to create and better ensure inclusive experiences for team members and those we serve.
Plans are underway to create various employee resource groups (ERGs). ERGs are employee-led groups of individuals with common characteristics such as gender, race, ethnicity or heritage, religious affiliation, lifestyle or interest that support career development and overall wellbeing at work.

To support inclusive patient experiences for all gender identities, the team is working with others to add fields to Sentara's electronic medical record (EMR) platform so that patients' personal pronouns and organ inventories are a part of their health records and available to caregivers.

The expanded team will focus on cultural competency throughout the system. CDICC is already working on strategies to ensure healthcare professionals have the tools and understanding they need to effectively deliver services that meet the social, cultural and linguistic needs of patients and community members. A culturally competent healthcare system can positively influence health outcomes and quality of care while also lessening health disparities.
By: Lauren Patton
---