Sentara Martha Jefferson Hospital invests $100,000 to support communities in partnership with Local Food Hub
Funding supports collaborative partnership to bring free fresh food stands to surrounding counties in 2023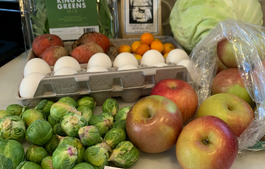 With community support through the Martha Jefferson Hospital Foundation, Sentara Martha Jefferson Hospital announced today an expansion of its partnership with the Local Food Hub through a $100,000 investment. Between March and October 2023, the organizations will host 14 free food stands throughout Louisa, Greene, Albemarle, Fluvanna and Nelson counties, supplying more than 1,700 families with local farm-fresh produce such as healthy meats, fruits, and vegetables.

Today, March 16, 2023, Sentara team members will work alongside the Local Food Hub, a Charlottesville-based organization, to distribute fresh food to roughly 125 families at the first farm stand of 2023.

"One of the most significant health concerns in our community, as highlighted by our Community Health Needs Assessment, is promoting healthy eating. The Local Food Hub is a natural partner in this effort because they share our goal of providing our communities with fresh, local food" says Kimberly Skelly, executive director of Martha Jefferson Hospital Foundation.

Seirra Winn, community health worker with Sentara Martha Jefferson, is thrilled to extend the partnership this year. "With this program, we are taking the food directly to our community members and eliminating barriers. Food insecurity is real, and it takes the collaboration of community partners to fill this most basic of needs and help ensure that families in our community stay well."
"Virginia is full of independent farms growing incredible, high-quality produce, but that produce is difficult for many community members to access. These farm stands provide the chance to support both local farmers and increase food access," says Portia Boggs, Director of Advancement and Communications of Local Food Hub. "We are very excited about our partnership with Sentara, and this opportunity to get fresh, local food to folks who need it."

It is planned that in the future, farm stands will offer cooking demonstrations, food sampling, and recipes using the produce that is provided.
By: Alyssa Pacheco
---