Sentara To Home expands hospital-level care in patients' homes
Alternative to COVID-19 hospital admissions adds new diagnoses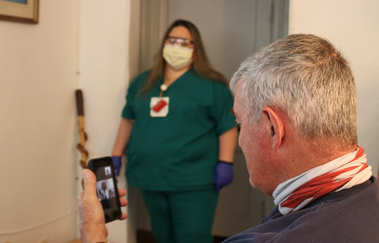 Patients with COVID-19 and other conditions have been recovering in the comfort of their homes instead of the hospital through a creative partnership between Sentara Medical Group and Sentara Home Care Services. The program provides hospital-level care at home and operates under the existing hospital pharmacy transition program called Sentara To Home.
"We are combining state-of-the-art remote technology, hands-on nursing care and virtual doctor visits every day to serve hospital patients safely and successfully at home," says Colin Findlay, MD, clinical chief for Sentara Medical Group's hospitalist program. Hospitalists are physicians who manage patient care during hospital admissions and they are responsible for Sentara To Home patients. "We've had success keeping appropriate COVID-19 patients safe at home and we see opportunities for patients with other diagnoses." These conditions include congestive heart failure (CHF), chronic obstructive pulmonary disorder (COPD), deep vein thrombosis (DVT) and other conditions.
"We have used telehealth technology for years to monitor and manage patients with chronic conditions," says Kim Bradley, RN, vice president and chief nurse executive for Sentara Home Care Services. "Daily visits by our Home Health nurses and virtual doctor visits while the nurse is physically present elevate this modality to hospital-level care at home."
One of those patients is Wallace Richardson of Norfolk. He was diagnosed with COVID-19 on May 7th, barely two weeks after his wife, Deborah, died from other chronic health issues. He spent a week in Sentara Heart Hospital and improved quickly and was offered continued recuperation with medical oversight through Sentara To Home.
"I wasn't sick enough to stay in the hospital but I needed help," Wallace says. "There's a great need for seniors, like me, who are single with no relatives locally." He credits daily visits from Sentara Home Care nurse Melissa Whitehead and virtual visits with Sentara hospitalist Ola Onwuemene, MD, with getting him through three weeks of recovery in home quarantine. "I would not be doing as well without their help," he concludes. He was discharged from the program on May 20th.
Sentara Home Care Services uses tablet-based remote technology to enhance patient engagement and involvement in their care. Hospitalists receive current vital signs and assessments from the nurse digitally and see patients via video chats. Patients also use the tablets to record their own blood pressure, weight, heart rate, and other data, which a nurse can view remotely, allowing clinical staff to address developing issues and triage home visits promptly. The software includes medication reminders and education modules to promote self-care.
Sentara To Home frees up inpatient beds for sicker patients and it costs less than inpatient admissions," adds Dr. Findlay. "Patients often feel safer at home and their families can be there to support them. It's a win for everybody."
By: Dale Gauding
---