Sentara Unveils Healing Garden dedicated to a longtime Prince William County nurse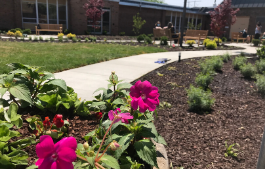 On Friday, May 15, 2020, Sentara Northern Virginia Medical Center unveiled and dedicated its Healing Garden. A place for quiet reflection, the Sentara Healing Garden is made possible through a substantial donation by longtime Prince William County resident, Doris Mae Greene. Ms. Greene passed away in May 2017.
Healing Gardens have shown to have a number of positive mental and physical benefits. Therapeutic landscapes have been proven to reduce anxiety, depression, lower blood pressure and increase calmness. The Sentara Healing Garden is a place where our doctors, nurses, and team members can take a step away, collect themselves, decompress and unwind, so they can return rejuvenated, prepared to deliver exceptional, compassionate care to our patients, families and guests.
"It's ideal the healing garden was dedicated today. It's Hospital Week and Tuesday was legendary nurse Florence Nightingale's birthday. Nightingale once said, "Live life when you have it. Life is a splendid gift – there is nothing small about it." That's something Ms. Greene knew. She lived a simple life, but she knew the importance of living each day to the fullest. She recognized the amazing gift healthcare providers deliver each and every day," explains Kathie Johnson, President, Sentara Northern Virginia Medical Center.
This healing garden couldn't have come together without the generosity of Ms. Greene. She had been a nurse, and while she never practiced at Sentara Northern Virginia Medical Center, she was dedicated to community care. This thoughtful gift will benefit healthcare workers, caregivers, and patients for years to come.
The Sentara Healing Garden is located on the Sentara Northern Virginia Medical Center campus, near the entrance of the Sentara Heart & Vascular Center.
To donate to Sentara Northern Virginia Medical Center and areas of health needs, please visit sentara.com.
By: Susan Bahorich
---