Six months of COVID-19: Sentara Healthcare statistics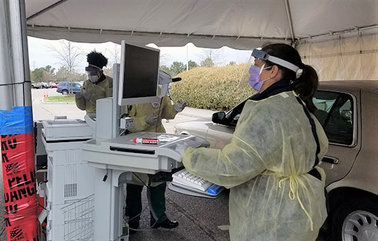 It has been more than six months since Sentara Healthcare first created the Sentara COVID-19 Task Force to monitor and respond to the novel coronavirus outbreak as it spread throughout the United States and into our communities. So much has changed around the world, our neighborhoods, and at home since the COVID-19 pandemic began.
There have been many significant developments since the Sentara COVID-19 taskforce was created, and many interesting statistics that you may now be aware of.
Here are a few statistics from our health system since the COVID-19 outbreak began:
Testing by the Numbers
Sentara continues to conduct COVID-19 testing in all of our hospitals throughout Virginia and North Carolina, as well as offering free COVID-19 testing in underserved communities.
As of August 20, 2020:
Sentara has provided 10,911 COVID-19 tests to underserved populations through community events partnering with non-profit and faith-based organizations.
Sentara's in-house testing laboratory has completed more than 103,000 COVID-19 tests for patients and community members.
Sentara completes an average of 1,200 tests per day for patients and community members and strives to maintain a 24 to 48-hour testing turnaround time.
Keeping our Communities Safe and Informed
The Sentara COVID-19 Call Center, launched on March 16, has answered more than 16,816 calls from patients and the community.
More than 360 Sentara specialists and primary care providers have been rapidly trained to deploy to hospitals and assist with COVID-19 treatment if needed.
More than 212,000 telehealth and virtual visits have been conducted between Sentara providers and patients.
We launched the Safe At Sentara Live Broadcast Series to inform the community of our extensive safety protocols and guidelines for patients to get the care they need in the safest manner possible at Sentara facilities. These procedures include updated CDC-recommended cleaning protocols, extensive patient and employee screening and testing, mandatory masking, an emphasis on social distancing and new visitation policies.
Conducted monthly calls with minority faith-based leaders to help provide accurate COVID-19 information and keep vulnerable communities safe.
Participated in legislative town halls to provide accurate COVID-19 information and answer community questions.
Partnered with several local companies to procure or create PPE and other materials – including Cupron Inc. and London Bridge Training Company for masks and Leesa for mattresses.
Developed extensive procedures to procure and reprocess personal protective equipment (PPE) to preserve limited PPE supplies while ensuring the safety of our patients and care teams.


Community Support & Partnerships
More than 338,000 pieces of personal protective equipment (PPE) have been donated by local businesses, organizations, and community members.
The Sentara COVID-19 Community Relief Fund has collected more than $705,000 in charitable donations to provide critical resources and services to stop the spread of the virus.
Sentara and Truist committed $1 million to the We Care COVID-19 Virginia Emergency Food Support Plan, a part of the Federation of Virginia Foodbanks.
100,000 boxes of food will be packed for the We Care COVID-19 Virginia Emergency Food Support Plan, currently underway at food banks across the state.
Partnered with the Virginia Department of Health to offer free drive-thru testing in Charlottesville, Harrisonburg, Halifax, Prince William County and Hampton Roads.
Partnered with faith-based and minority-focused organizations to ensure testing was made available to vulnerable and at-risk communities.
Partnered with the Virginia Department of Health to conduct serology testing (antibody testing) in our communities to better determine how many Virginians remain at risk for COVID-19.
Partnered with Virginia Ready, a public non-profit created in response to a surge in unemployment caused by the COVID-19 pandemic to re-equip recently out-of-work Virginians with skills needed to succeed at in-demand jobs.
Joined the American Red Cross' COVID-19 Convalescent Plasma Program to encourage people who have recovered from the coronavirus to donate their convalescent plasma as a potential treatment for patients with COVID-19.
We launched www.SentaraHeroes.com to encourage the community to post positive messages of support for our staff. In the first few days, we have received more than 16,000 visits to the page and nearly 300 posts of encouragement.
By: Kelly Kennedy
---