Sentara Sports Medicine Specialist Helps Patients Get Back to Active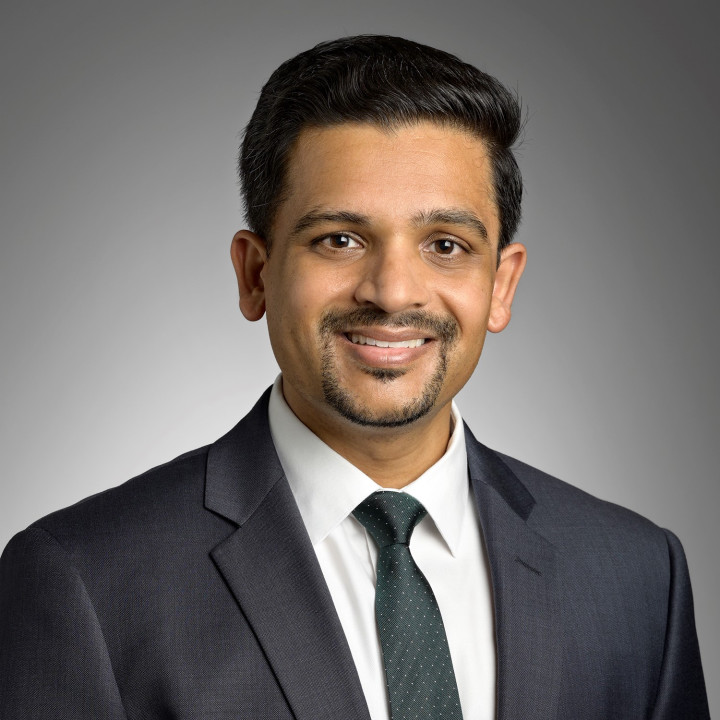 Devesh Patel, M.D.
Sentara Sports Medicine Specialists
Sports Medicine, Family Medicine
On a typical day in the office,
Devesh Patel, M.D.
, might treat a high school basketball player, an older adult in pain after too much yardwork and a former pro athlete dealing with complications from years of sport. "I specialize in sports medicine, but that doesn't mean I only treat competitive athletes," he says. "I diagnose and treat anyone, young or old, who has joint or muscle pain."
The Many Faces of Sports Medicine
When he was in college at the University of California, Riverside, Dr. Patel planned on becoming a dentist. But an internship helping out with the university's sports medicine program changed his plans. "Sports medicine fellows from the local hospital system came to work with the Division 1 athletes, and I discovered the field of primary care sports medicine," he says.
As a primary care sports medicine doctor, Dr. Patel specializes in nonsurgical treatment of musculoskeletal problems. Those patients include people of all ages and activity levels, from athletes to older adults managing arthritis pain.
As part of the Sentara sports medicine team at Sentara Sports Medicine Specialists, he works closely with orthopedic surgeons, athletic trainers and other experts to help people get back to doing what they love. He also takes his skills into the community, treating athletes in local high schools and serving as a team physician for the college athletes at Virginia Wesleyan University.
Diagnostic Ultrasound and Regenerative Medicine
Dr. Patel treats a wide range of injuries, including arthritis pain, muscle sprains and strains, tendon tears and sports concussions. His specialty is diagnostic musculoskeletal ultrasound. "Ultrasound allows me to do dynamic imaging in the clinic, assessing muscles, tendons and other tissues for injury," he explains.
Typical MRI images require patients to lie still. With ultrasound, Dr. Patel can create images of a patient's tissues as they move. "I can actively see if something is getting pinched, or what's happening when the patient moves a painful joint," he says. "That helps me quickly assess patients to diagnose the problem and determine next steps, whether that's an MRI to get more information, physical therapy or surgery."
Dr. Patel also specializes in ultrasound-guided injections. Using ultrasound to guide him, he injects injured joints and tissues with medications, including:
Corticosteroids: Steroid injections can reduce inflammation and decrease pain caused by conditions such as osteoarthritis, tendinitis and bursitis.
Platelet-rich plasma (PRP): Platelets, a component of blood, are rich in growth factors important for healing. This treatment involves drawing blood from a patient, concentrating the platelets, then injecting the concentrated solution into arthritic joints and injured tendons or ligaments. PRP injections are a type of regenerative medicine, Dr. Patel explains. "We can use PRP to speed up healing."
Background
Dr. Patel was born and raised in Southern California. He went to medical school at St. George's University in Grenada, West Indies. He is board-certified in family medicine and sports medicine and also has a certification in musculoskeletal sonography (RMSK). He is a member of the American Academy of Family Physicians, the American Medical Society for Sports Medicine and the American College of Sports Medicine.
After completing his family medicine residency and a sports medicine fellowship in Pennsylvania, Dr. Patel was excited to join the Sentara team—and return to warmer weather and nearby beaches. In his spare time, he enjoys spending time with family and friends, hiking and playing recreational soccer and basketball.
Dr. Patel is a member of Sentara Sports Medicine Specialists. 757-395-1810 to make an appointment.
---