Sentara Neurosurgeon Offers Comprehensive Services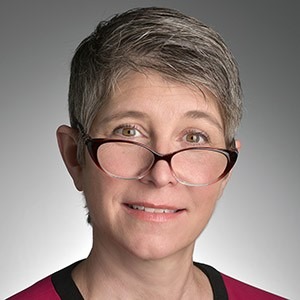 Tina C. Rodrigue, M.D.
Sentara Neurosurgery Specialists
Neurosurgery
"When I was a child, I loved the Reader's Digest series 'I am Joe's Body,' and became fascinated with the human body," says neurosurgeon Tina Rodrigue, M.D. "A career in medicine was logical given my interest in science and anatomy. Like many in the medical field, I had a strong desire to help people in some way."
Dr. Rodrigue initially assumed she was destined for psychiatry because she wanted to understand, as she says, "what makes people tick." But given her anatomy interest, she chose neurosurgery instead because it is more physiology-based. "I'm a very concrete person, so having the ability to positively impact someone's life through surgery was appealing."
Innovative Brain and Spine Surgery
Dr. Rodrigue joined Sentara Neurosurgery Specialists in Hampton, Va., where she provides comprehensive neurosurgery services to her patients, including:
Spine Surgery for Degenerative Conditions
Spinal stenosis: This refers to the narrowing of the open spaces within the spine. It is often related to the wear-and-tear of aging or arthritis.
Degenerative disc disease: Also associated with aging, this condition occurs when the discs between the vertebrae in your back break down.
Brain Surgery
Brain tumors: Tumors may originate in the brain (primary brain tumors) or spread to the brain from other areas of the body (brain metastases).
Pituitary tumors: These are slow-growing tumors that develop from pituitary gland cells.
Stroke: Strokes can disrupt the blood supply to the brain or be caused by a ruptured blood vessel in the brain.
Hydrocephalus: Hydrocephalus is a condition that occurs when excess fluid builds up in brain cavities. The surgical placement of a drainage device, known as a shunt, relieves the pressure.
Minimally Invasive Neurosurgery
Whenever possible, Dr. Rodrigue offers endoscopic brain and spine surgery. This minimally invasive procedure involves smaller incisions and the use of specialized tools and cameras to remove tumors, repair discs or to place shunts. The benefit to patients is smaller incisions, shorter recovery and less pain.
For both spine and brain procedures, Dr. Rodrigue employs stereotactic guidance. Before surgery, the doctor obtains MRI images of the patient's brain. Surgeons use the images in the operating room to help them remove the abnormal tissue displayed on the MRI without harming the nearby healthy brain tissue.
Treating the Whole Patient
"My approach as a surgeon is to use the least aggressive method possible for them to see results," says Dr. Rodrigue. "I'm not one to operate just because I can. I want each patient to have a better quality of life."
Dr. Rodrigue realizes surgery is only one piece of the puzzle in a patient's life and health. She tries to fit surgery into their overall needs and desires. "I spend a lot of time determining who the person is, what their needs are and how the condition and surgery could impact their lifestyle."
"I want my patients to feel like I listen to them and that I am their partner. It's normal to feel a little nervous, so I make sure they understand what neurosurgery will mean for them. I answer all of their questions to alleviate some of the fear they feel.
Background
Dr. Rodrigue lives in Hampton Roads with her husband. As foster parents, they've enriched and been enriched by the lives of many children over the years. She and her husband enjoy traveling and beekeeping, but they disagree when it comes to tango dancing - she enjoys it, her husband doesn't.
She is board-certified in neurosurgery and a member of both the American Association of Neurological Surgeons and the Congress of Neurological Surgeons. She completed her surgical residency at University Hospitals of Cleveland, plus a neurosurgery fellowship at the Naval Medical Center Portsmouth in Portsmouth, Va.
Dr. Rodrigue is accepting new patients at Sentara Neurosurgery Specialists, located at 4000 Coliseum Drive, Suite 200, Hampton, Va. To request an appointment or learn more call 757-736-1520.
---