Mission Statement
Sentara Physician Education Continuing Medical Education Mission Statement
Sentara Health Physician Education supports the Sentara Health mission to improve health every day, by producing and delivering educational activities that will promote and maintain the advancement of physicians' medical knowledge, improve performance in practice, and improve patient outcomes by advancing and transforming the care of defined populations.

Sentara Health Physician Education will monitor the CME program by identifying gaps in practice, collecting and examining changes in performance, collecting and analyzing evaluations from learners, and measuring expected results in trends toward performance improvement which provides direction towards future educational efforts. Sentara Health will make publicly available important quality and safety measures.
Accredited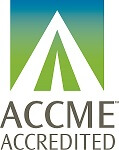 The Medical Society of Virginia Intrastate Accreditation Committee (IAC) met November 17, 2022. Acting on review of the Sentara Health Self Study Report, activity planning documents, and information obtained from the interview on September 14, 2022, the IAC granted Sentara Health reaccreditation a four-year term. The accreditation period extends to December 12, 2026. The deep commitment and extensive efforts to achieve this success are recognized by the 100% compliance of Sentara Health with all accreditation criteria required for accreditation.
Team Members