3 Reasons Nature Helps to Make us Healthier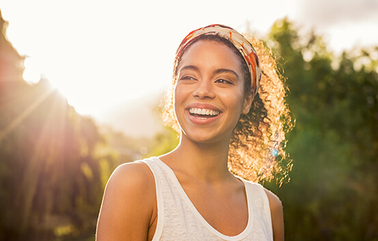 For many of us, screen time and indoor activities drastically interfere with our time outdoors and the health benefits we receive from being out in the environment.
While the pandemic exacerbated the time we spent on screens, even before COVID-19
Americans spent about 90 percent of their time indoors on average, according to the Environmental Protection Agency.
A third of teens used screens more than eight hours a day, a Common Sense Media study found
Adults spent as much as 12 hours a day in front of TVs and computers, according to Nielsen.
As we come out of the pandemic, with all the documented physical and mental health benefits of being outdoors, you've got some compelling reasons to head outside. Here's why:
Improves cardiovascular health and immunity
Being outdoors lends itself to exercising, improving you heart health, weight, blood pressure and even cholesterol levels.
While you're outside, your body makes vitamin D when your skin is exposed to the sun. Vitamin D provides many benefits:
Fights off invading bacteria and viruses
Strengthens bones
Helps your nerves carry messages between your brain and body
Your skin cannot make vitamin D from sunlight through a window. Of course, be responsible with your skin protection when you spend time in the sun.
Reduces stress and improve mood
Exposure to sunlight boosts serotonin. The hormone serotonin regulates our mood naturally, making us feel calmer and happier.
Spending time outside also lowers the levels of your stress hormone cortisol. A University of Michigan study asked participants "take a nature pill" by going outside 10 minutes or more at least three times a week. They were asked not to do strenuous exercise, talk to anyone in person or on the phone, check their phone or read. Cortisol levels were measured before and after spending time outside.
The data revealed that a 20-minute nature experience was enough to significantly reduce cortisol levels.
Even though in this study participants were deliberately avoiding conversations to set controls, the reality is that one of the benefits of spending time outside is being around other people. Whether you plan an activity with a friend or family member, chat with someone while you're at a dog park or run into a neighbor, these connections improve our mood and reduce tension we may be feeling.
By boosting serotonin levels and reducing cortisol, we also pave the way to better self-esteem when we feel happier about ourselves and our situation.
Besides the sunlight and exercise we get from being outdoors, even the sounds and smells of nature reduce our stress. Just thinking of how chirping birds, waves hitting the shore, and running rivers help to soothe us.
Boosts concentration and creativity
Being outdoors calms our brain. We reduce our frenetic pace and slow our mind.
Kids who cope with ADHD concentrate better after going outdoors. A University of Illinois study surveyed children with ADHD nationwide who participated in various after-school and weekend activities. They found children who participated in outdoor activities, whether structured or unstructured, showed a reduction in ADHD symptoms.
While this study focused on children, nature has the same effects on adults. Stepping away from our desks, whether at home or in an office setting, clears our mind so we can come back to a project more refreshed.
On that note, nature also frees our mind to be open to new possibilities. It gets us out of ruts and allows our creative juices to flow. We can get a new perspective to solve a problem if we take a step away from our indoor lives and let the sun, sights and smells seep in.
The great outdoors can improve your health mentally and physically. You don't need to travel to experience the health benefits, just step outside into your own backyard, explore a nearby park or stroll through your neighborhood and enjoy all that Mother Nature has to offer us.
By: Lisa Marinelli Smith
---