5 triggers that may disrupt your weight loss goals and how to overcome them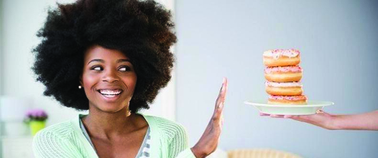 "Only eat when you're truly hungry." That's the advice we get when dieting. But as many of us have experienced. This is easier said than done.
Whether you are working towards a weight loss goal, trying to keep weight off, or hoping to live a healthier lifestyle, everyday life occurrences can lead you to consume extra, unwanted calories.
In this blog, we'll outline 5 different types of "triggers" that can interfere with our determination to make healthy choices. We'll also provide familiar examples and actionable solutions to help you overcome situations in which triggers are common.
Sensory Triggers: Responding to the sight and smell of food
Examples:
Smell of fresh baked goods.
Commercials that make you salivate.
Solutions:
Keep healthier, more nourishing foods on hand. Don't buy tempting foods.
Use the five-minute rule. If after five minutes the temptation for the food has not decreased, allow yourself a small portion of whatever it is you are craving.
By saying "no" to an impulse, you are strengthening your willpower muscle.
Define meal times. Avoid unnecessary eating.
Special Event Triggers: Vacations, parties, and holidays
Examples:
You believe a vacation is an invitation for overindulgence.
At birthday parties you feel you must eat cake and ice cream.
Solutions:
A vacation is a time to slow down, relax and enjoy time with family.
Find alternative things to do at events to take your mind off of food, such as:
Talking or playing board games with friends and family
Playing sports like volleyball, softball or swimming
Going exploring or sightseeing
Bring healthy food items to a potluck so that you know you will have something nutritious to eat that fits into your new, healthy lifestyle.
Eat a healthy snack before attending events. Don't arrive hungry.
Position yourself away from the food. Keep a calorie-free beverage in your hand at all times.
Activity Triggers: Associating eating with certain activities
Examples:
When seeing a movie, you think you must have popcorn.
When traveling, you must have a cooler full of snacks.
You can't watch a football game without a bag of snack food.
Solutions:
Only eat at designated places such as a kitchen table.
Substitute low-fat, low-calorie foods in place of high-calorie foods.
Arrive to movies or sporting events at the last minute so you will not have time to get food.
Keep busy while watching TV. Try walking in place.
Practice makes perfect. The habit will weaken by continually avoiding the unwanted behavior.
People Triggers: Being around certain people prompts you to eat
Examples:
When you get together with friends, you immediately think of where you plan to eat.
Family members greet you with food.
Solutions:
When getting together with friends, suggest taking part in activities that get you moving such as golf, tennis, hiking, playing games, or window shopping.
Let your family and friends know that you are trying to become a healthier version of yourself. Tell them how they can avoid tempting you.
Emotional Triggers: You eat in response to a certain feeling or emotion
Examples:
Many emotions trigger eating, such as boredom, stress, anxiety, depression, anger, or happiness.
After an argument with a friend or spouse, you find yourself searching for a carton of ice cream.
Solutions:
Tackle your emotion head-on. Confront the person you had the conflict with. Deal with the situation rather than stewing over it.
Realize that eating will not resolve the emotional issue.
Exercise is an excellent tool for reducing stress and depression.
Purchase a relaxation tape or download a relaxation app, and use it instead of food to deal with your stressful situation.
If situations produce unmanageable stress or depression, realize that professionals are available to help you manage your emotions. Food only complicates stress management, boredom, and depression.
We hope you'll keep these strategies in mind the next time you find yourself walking by a bakery and craving a croissant or at your next family gathering reaching for the pie. It's okay to reward yourself with a little treat now and then, but it's important to focus on your long term goals, even in situations that make you want to lose sight of them!
Looking to make a major change and take back your life? Click here to learn about Sentara's Comprehensive Weight Loss Solutions.
---