Aquatic therapy can bring waves of confidence to kids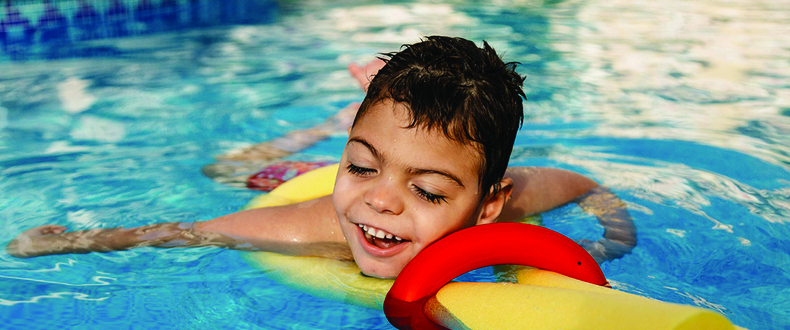 When children are injured or coping with a physical challenge, seeing other kids doing activities they can't do is frustrating.
Aquatic therapy can be useful not just as a treatment tool but also for giving kids confidence and a sense of normalcy.
"Aquatic therapy is an equalizer for kids who have trouble doing things on land," says Cierra Neidermeyer, a physical therapist with Sentara Therapy Center." For example, standing, sitting or even kneeling requires a lot of balance, and the water allows stability to aid them. It also is forgiving and gives them time to respond with a balanced reaction."
What is aquatic therapy?
Aquatic therapy is a common method of providing physical therapy in a pool. It must be performed by a physical therapist or physical therapist assistant, not an unlicensed individual, caregiver, personal trainer or aquatic instructor.
Water's buoyancy helps support people's weight and decreases stress on the body.
Aquatic therapy is different from aquatic exercise or aquatic fitness because it is a physical medicine and rehabilitation specialty covered by many insurance providers due to the personalized nature of the treatment.
What are the benefits of aquatic therapy?
"There are a bunch of reasons we recommend aquatic therapy for all ages," Neidermeyer explains. "In many ways, it puts less strain on joints and helps people accomplish goals they may not be able to outside of water yet."
Therapists use aquatic therapy to treat sports injuries, sensory or neuro disorders, pain reduction, developmental delays, autism, general muscle weakness and neuromuscular disorders, such as cerebral palsy.
Physical therapists use aquatic therapy for kids to:
Increase alertness
Improve balance and body awareness
Reach developmental milestones
Reduce anxiety - The water provides a calming sensation because of its overall input to the body (proprioception)
Respiration - The water provides added pressure against gravity. Breathing muscles learn to work harder to allow for natural strengthening.
Reach developmental milestones.
Speech- The water helps improve babbling and vocalizations.
Strengthen limbs and core using the water for resistance
How can my child get aquatic therapy?
When a child is referred for physical therapy, the PT will determine a treatment plan that may involve aquatic therapy.
Insurance generally approves eight sessions in a row of pool therapy. Then the patient would be reevaluated at the office to see if more sessions would be beneficial, Neidermeyer says. She adds that babies as young as nine or 12 months can begin aquatic therapy.
Some kids fear the water, and therapists will give them ample time to get used to the treatment. However, if it's clear that it's not a suitable environment for the child, the therapist will not force it. For some kids, it may take time to feel comfortable leaving their parents, she says.
For more information on aquatic therapy, please speak to your primary care physician for a referral if required by your insurance. Sentara offers pediatric and adult therapy services across the commonwealth and in North Carolina.
By: Lisa Marinelli Smith
---