Eat to Protect Your Brain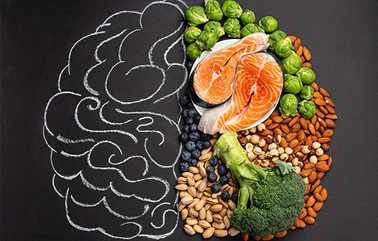 It is important to address brain health periodically and discuss ways to reduce our risk for dementia and Alzheimer's Disease. Over 6.2 million people in the U.S. have Alzheimer's Disease; someone is newly diagnosed every 64 seconds! It is also worth noting that Alzheimer's Disease is the fifth leading cause of death in this country. Research has shown that there can be nutritional ways to protect our brain.
According to numerous studies, changes in lipids can impact risk for Alzheimer's Disease:
An increase in triglycerides by just 15 mg over the recommended level of 150 mg can up the risk of developing Alzheimer's Disease by 15%

A 15-point increase in blood glucose may increase Alzheimer's Disease risk by 15%

An increase in HDL-cholesterol (the good type) by 15 mg lowered Alzheimer's Disease risk by 15%
Eating certain healthful foods may offer brain protection. The MIND Diet (Mediterranean-DASH Intervention for Neurodegenerative Delay) is promoted by researchers to prevent or delay the onset of Alzheimer's Disease. Food choices should include on a frequent basis:
dark greens daily, 1 cup raw or ½ c cooked - kale, spinach, collard and mustard green, Romaine lettuce

·

other vegetables, daily, ½ cup or more

·

nuts or nut butter, 5 times per week

berries, ½ cup, 5 times per week of blueberries, blackberries, raspberries and strawberries

beans and legumes, ½ cup cooked, 3 times per week

whole-grains, ½ cup cooked or 1 slice bread, 3 times per day

fish, 3-5 ounce serving, once per week or more

extra-virgin olive oil, 2 tablespoons per day
The MIND Diet to protect our brains also suggests a few foods to limit:
red and processed meats, 3-5 ounce-servings, no more than 3 times per week

butter or stick margarine replaced with oil-based tub margarines or oils

full-fat cheese, no more than 2 ounces per week

pastries and sweets, no more than 4 servings per week

fried and fast foods, no more than 1 fast food serving per week or 1 serving of fried food

alcohol is not encouraged or recommended
The MIND Diet is certainly a way of eating that focuses on less processed, wholesome, plant-focused foods to protect the brain. Additional research indicates that making changes toward the MIND Diet can benefit folks as young as mid-30s. Also, those pesky chronic diseases must be well-controlled to protect the brain; keep blood pressure, blood glucose, harmful LDL-cholesterol and triglycerides well-managed. Boosting the protective HDL-cholesterol is important too. The stressors of high blood pressure, high lipids and glucose cause wear-and-tear on the entire body, including the brain.
---