Sentara Midwifery Specialists: Our Approach to Patient Care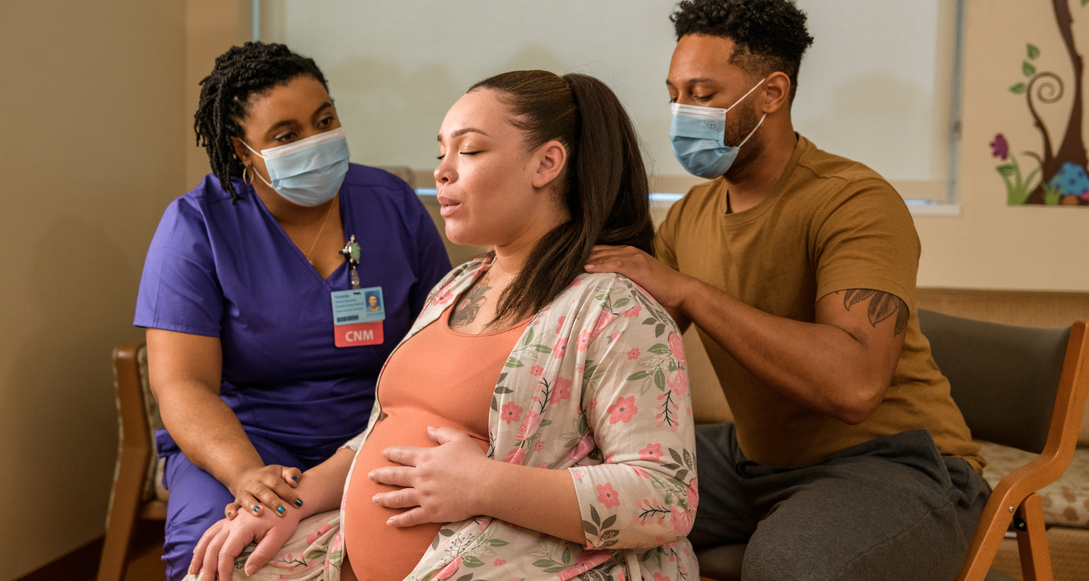 The Certified Nurse-Midwives at Sentara Midwifery Specialists offer a personalized, comprehensive, and holistic approach to patient care.

Sentara Medical Group's Certified-Nurse Midwives are your primary care providers throughout your pregnancy. They remain with you during each trimester, not just during your delivery.

Pregnancy has three trimesters marked by specific fetal developments.
How Our Certified Nurse-Midwives Approach Your First Trimester of Pregnancy
A baby's body structure and organ systems develop in the first trimester. Your body undergoes several changes, causing a variety of symptoms. These could include nausea, fatigue, breast tenderness, and frequent urination; however, every expectant mother has a different experience.

Our approach to your first trimester includes:
Confirmation of pregnancy/dating ultrasound, initial obstetric lab work, including discussing available options for genetic screening.
Health history review to identify that you are a good candidate for nurse midwifery pregnancy care.
Review ways to reduce pregnancy associated nausea, safe medications, precautions in pregnancy and give information for labor doulas and prenatal classes that are available.
Building a relationship with you that is individualized and focused on your needs.
What to Expect in Your Second Trimester of Pregnancy with our Team of Certified Nurse-Midwives
In the second trimester, the baby's eyes and ears have started developing. Typically, this is the trimester when your baby can hear your voice. By this point, most unpleasant symptoms have disappeared. You may experience better sleep patterns and an increase in energy levels.

Our approach to your second trimester includes:
Second trimester is the time to interview and choose a doula if you wish to have one at your birth, register and attend classes, and begin preparing for your birth. Our Certified Nurse-Midwives will listen to your birth preferences, discuss options, and support your birth vision.
The anatomy ultrasound is completed; you can identify the baby's gender at this ultrasound appointment if first trimester genetic screening was not done.
Encourage mothers to attend a breastfeeding class and ensure they have the prescription to order their breast pump.
Preparing for Childbirth with our Certified Nurse-Midwives in Your Third Trimester of Pregnancy
In the third trimester, your baby's size and weight grow while their lungs mature. Near the final stretch of your pregnancy, the baby will begin to position itself head down. To prepare for birth, the size of your uterus will expand, sometimes causing symptoms such as shortness of breath, hemorrhoids, urinary incontinence, varicose veins, and sleeping problems.

Our approach to your third trimester includes:
Reviewing supportive measures for the end of pregnancy discomforts; physical therapy, massage, acupuncture, chiropractors etc.
Review the birth plan and clarify additional questions.
Weekly appointments to ensure the pregnancy is progressing well, discuss what type of postpartum birth control will work well for you and set your two- and six-week postpartum appointments.

Our Certified Nurse-Midwives will help you feel confident and comfortable in each trimester with their personalized approach to care.

Sentara Medical Group Certified-Nurse Midwives believe everyone has the right to choose their birthing experience, regardless of who they partner with.

Finding a healthcare partner for your pregnancy may feel daunting; however, we are here to help answer your questions so that you can make the best decision for yourself and your growing family.


Frequently asked questions surrounding pregnancy, Certified-Nurse Midwives, delivery and postnatal care.
Q: What is a Certified-Nurse Midwife?
A: A Certified-Nurse Midwife is a healthcare professional who cares for expectant mothers during pregnancy, childbirth, and the postnatal period; providing support, counseling, and medical care. Certified Nurse-Midwives provide full-scope gynecologic care as well, throughout the lifespan.

Q: How do you choose a Certified-Nurse Midwife?
A: When choosing a Certified-Nurse Midwife, you should choose one who has a Board Certification, extensive training, and experience in birth. The American Midwifery Certification Board (AMCB) is the national certifying body for candidates in Nurse-Midwifery who have received their graduate level education in programs accredited by the Accreditation Commission for Midwifery Education (ACME).
Their philosophy of care should align with yours and have good communication skills. Ask other mothers, friends or family members, and local birth centers or hospitals who they recommend.

Q: What are the benefits of having a Certified-Nurse Midwife deliver your baby?
A: Certified-Nurse Midwives provide evidence-based care that reduces the need for interventions during labor and delivery. Throughout your pregnancy, childbirth, and postnatal care, our team provides personalized care that empowers you to make informed decisions about your healthcare. When you choose a Midwifery setting for your labor, you can expect to receive hands-on support from Certified-Nurse Midwives who specialize in alternative and holistic pain management, perineal tear prevention, breastfeeding assistance, intermittent monitoring, and hydrotherapy. Additionally, you will have the freedom to remain mobile during labor.
Q: What are the benefits of delivering your baby at Sentara CarePlex Hospital?
A: The Sentara Midwifery Specialists team attends births at Sentara CarePlex Hospital. The hospital is equipped with advanced technology and equipment including private suites with private bathrooms, speciality tubs, peanut balls, and a Level III neonatal intensive care unit that provides specialized care and monitoring for newborns with complex medical needs.

Q: What is postpartum depression, and how is it treated?
A: Postpartum depression is a mood disorder that affects some people after giving birth. Symptoms may include sadness, anxiety, and difficulty bonding with the baby. The Certified-Nurse Midwives' treatments include therapy, medications, or suggested lifestyle changes such as exercise and social support. They can refer to a specialist if additional support is needed.

Q: How can new moms care for themselves during the postnatal period?
A: They should get rest, eat healthy foods, stay hydrated, and partner with their Certified-Nurse Midwife to navigate postpartum health issues. Our Certified-Nurse Midwives also advise patients to seek support from friends and family.

You can request a new patient appointment online or by calling 757-827-2455.
By: Sentara Midwifery Specialists
---