Best ways to support someone with PTSD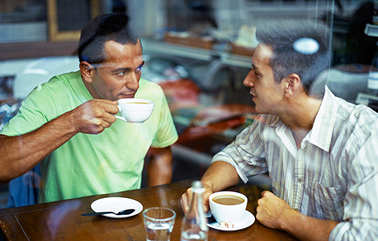 Exceptionally stressful, shocking or dangerous experiences, whether short-lived or long-term, can haunt those who lived through them for years, even decades.
Often people associate post-traumatic stress disorder - or PTSD - with troops who served in combat, but PTSD can occur after crimes, accidents, natural disasters or tragedies, among other distressing circumstances.
The symptoms of post-traumatic stress disorder are numerous and more than a little jarring for those who face them. The effects also deeply concern family members who desperately want to help their loved ones cope.
When can PTSD occur?
PTSD can happen to anyone, no matter what age. Remember, it's not a sign of weakness. The U.S. Department of Veteran Affairs estimates that 6 out of 100 people will have PTSD.
Signs of PTSD may start soon after a distressing event and then continue. For others, PTSD might not appear for months or years later. However, PTSD symptoms may last for a lifetime without proper care and may worsen as time passes.
What are symptoms of PTSD?
According to the National Center for PTSD, symptoms of PTSD can be broken into four categories:
Arousal and reactivity symptoms - Feeling on edge, jittery and on alert. You might suddenly become angry, irritable, have trouble sleeping or concentrating and be startled by loud noises or surprises. To cope, some people respond in unhealthy ways like drinking or abusing drugs.
Avoidance symptoms - Avoiding things that remind you of the event, including people or situations. You may avoid crowds or driving, for example, if you were in a car accident. You may even avoid getting help for PTSD because you don't want to talk about it.
Cognition and mood symptoms - You have more negative thoughts and feelings about yourself or the world than before the event. You may feel numb and lose interest in things you used to enjoy. You may think the world is dangerous and not trust anyone. Some people feel guilt or shame about the event.
Re-experiencing symptoms - Reliving the event through nightmares or flashbacks. Noises, scents or similar circumstances may trigger PTSD.
Children and PTSD
Symptoms for children are similar to adults, but kids can also experience other side effects from PTSD. Signs sometimes seen in very young children (less than 6 years old) include:
Acting out the scary event during playtime
Being unusually clingy with a parent or other adult
Forgetting how to or being unable to talk
Wetting the bed
Assessing PTSD
You may experience some PTSD symptoms for a few weeks after a dangerous event.
According to the National Institutes of Mental Health, you should see a behavioral health specialist when symptoms
Are not due to substance use, medical illness, or anything except the event itself
Last more than a month
Seriously affect your ability to function
Behavioral health experts can assess whether you should be treated and how to treat you. They will use a screening questionnaire about your thoughts, feelings and behaviors since the trauma. Based on those assessments, these experts can help identify the root of the symptoms and develop a treatment plan.
If you or a loved one is in a crisis, please call 911 or go to the nearest emergency room. For nonemergencies, you can contact Sentara RMH Outpatient Behavioral Health at 540-564-5104.
Other crisis resources:
National Suicide Prevention Lifeline: 1-800-273-8255
En Español: 1-888-628-9454
Veterans Crisis Line: Call 1-800-273-8255, press 1; send a text to 838255; or chat online Confidential Veterans Chat.
For nonemergencies, you can contact a Sentara mental health professional
By: ExploreHealth Content Team
---