Breast Cancer Awareness Month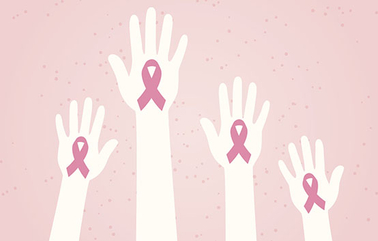 October is Breast Cancer Awareness Month, and this is recognized not just nationally in the U.S but it is also is a worldwide observance. Breast cancer is the second most common cancer diagnosed in women behind skin cancer. Breast cancer occurs when cancer cells grow out of control. Early diagnosis and early treatment are both important so that this does not become a deadly disease for women. Let's learn more about breast cancer and what we might do to prevent this type of cancer.
These are the risk factors for breast cancer:
Being female
Getting older (over 55 years)
Having a family history
Late menopause
Obesity
Alcohol
These factors can decrease risk for breast cancer:
Breast feeding
Exercise - this supports a strong immune system and promotes healthy levels of the hormones insulin and estrogen
Healthy weight
These lifestyle factors are known to reduce overall cancer risk:
A healthy diet with fruits, vegetables and whole grains for over 25 grams fiber
Avoidance of weight gain as you age
Regular physical activity - 30 minutes, 5 days per week
The American Institute of Cancer Research also suggests a few other areas to work on to reduce overall cancer risk:
Limit fast foods and other processed foods high in sugar and fat.
Reduce intake of red meat (beef, lamb, pork), as well as processed meats of bacon, hotdogs, sausage. Rather than deli meat sandwich at lunch, make it from freshly cooked chicken breast, hummus or peanut butter. As you reduce the red meat volume and frequency, fill in with more plant foods. For example, make chili with double the beans and half the amount of ground beef. Drink water and other sugar-free beverages to avoid the sugar intake that results in glucose spikes.
Enjoy all varieties of tea such as oolong, black, green and white, as well as coffee, for their beneficial polyphenols that might fight cancer cell development.
__
About the Author
Rita Smith is a Registered Dietitian and Certified Diabetes Educator. She's been working in the field of nutrition and disease prevention for more than 35 years and currently works at Sentara Martha Jefferson Hospital in Charlottesville, Va. Each week, Rita provides nutrition counseling to clients who have a variety of disorders or diseases including high cholesterol, high blood pressure, diabetes, celiac disease, irritable bowel syndrome, gastroparesis and weight management. For these clients, food choices can help them manage their health problems.
By: Rita P. Smith, MS, RD, CDE, Sentara Martha Jefferson Hospital
---