Breast Cancer: Early detection and care during COVID-19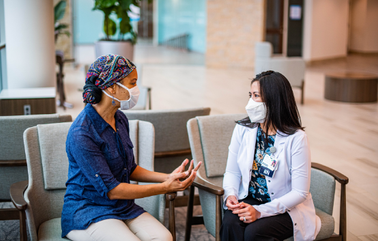 Care in the Time of COVID-19
With the novel coronavirus now a part of our daily lives, we are faced with a level of uncertainty that was previously unimaginable. As a result, healthcare providers across the nation have seen an increase in the number of individuals delaying care and putting off preventative screenings that are so critical to identifying health problems early.
We want you to feel safe at Sentara so there is nothing in between you and getting the best care possible. We are screening and masking everyone who comes to our facilities, wearing appropriate Personal Protective Equipment, ensuring social distance and have increased our already robust cleaning for infection prevention. We are committed to always keeping our patients, employees and community members safe.
Early Detection Means Better Outcomes
"One out of every eight women in the United States will be diagnosed with breast cancer during her lifetime," shares Dr. Jennifer Reed, fellowship-trained breast surgeon with Sentara Surgery Specialists. "The American Cancer Society recently published a troubling study estimating the impact of delayed preventative screenings as a result of the COVID-19 pandemic. Early detection means better outcomes, and so we are working hard to reassure the community and get the message out that they should not delay their annual mammogram. Cancer doesn't wait." The Sentara Cancer Network focuses on early screening and detection using innovative technologies like 3D Mammography to catch breast cancer early. If results are abnormal, we provide you with timely accurate results. That means you don't have to wait to know if there's a problem and treatment can begin immediately if a breast disease or cancer diagnosis is confirmed.
We Are in This Together
Whether you're interested in genetic counseling to assess your breast cancer risk, or you need help coordinating your appointments, Sentara is with you every step of the way. Our entire care team is there to help and support you and your family with any challenges you may face.
Cindy Allen, Vice President, Sentara Cancer Network, adds, "For all of your breast health needs, we provide collaborative care that is focused on you."
By: Sentara Cancer Network
---