Build Up Bone Strength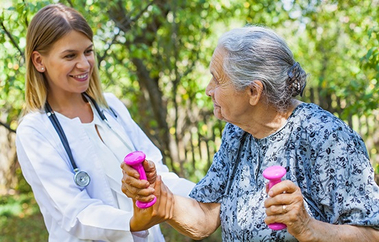 According to the International Osteoporosis Foundation one in three women over the age of 50 and one in five men will experience an osteoporosis fracture in their lifetime. With an aging population and longer life spans, osteoporosis is becoming a global health problem. In osteoporosis bone tissue deteriorates resulting in low bone mass, loss of bone strength and an increased risk for fractures.
A recent study published by JAMA Network Open found that nearly two-thirds of adults in the U.S. over the age of 65 years eat an unhealthy diet, consuming more processed meat, sugary drinks and salty foods. This may increase risk for chronic health problems as we age like osteoporosis.
The most common risk factors for osteoporosis include:
Aging
Gender - more common in women
Menopause
Low BMI or being a very thin person
There are secondary causes of osteoporosis including
Taking certain drugs like oral glucocorticoids
Smoking
Alcohol - over 3 drinks per day
Prolonged immobility
Other health issues including type 1 diabetes, rheumatoid arthritis, GI disorders and chronic liver disease
Hip fractures increase a person's mortality risk by 15 to 20% within the first year. Up to 50% of people with a hip fracture will need long term nursing homecare. These hip fracture patients report a decrease in their quality of life and depression.
Certain health issues such as Inflammatory Bowel Disease, Celiac Disease and gastric bypass surgery can lead to lower absorption of two key bone nutrients in the GI tract: calcium and vitamin D.
The Institute of Medicine recommends
Calcium: 1,000 mg/day for men ages 50-70
Calcium: 1,200 mg calcium for women over age 50 and men over age 70
Note: There is better absorption of a calcium supplement if it is taken with food, but no more than 500-600 mg should be taken at a time.
Vitamin D: 600 IU/day until age 70, and then 800 IU after 70 years of age
Food sources of Vitamin D and calcium include a variety of dairy products such as milk, yogurt and cheese, as well as calcium-fortified milk replacements like soy and almond milks. Calcium is also found in kale, bok choy and collard greens, tofu and cooked soybeans, and salmon and sardines with bones. And don't forget that bone is active tissue and it requires a wholesome diet to provide enough protein, vitamins and minerals for health maintenance. Weight bearing exercise is also important for strong bones throughout a lifetime.
__
About the Author
Rita Smith is a Registered Dietitian and Certified Diabetes Educator. She's been working in the field of nutrition and disease prevention for more than 35 years and currently works at Sentara Martha Jefferson Hospital in Charlottesville, Va. Each week, Rita provides nutrition counseling to clients who have a variety of disorders or diseases including high cholesterol, high blood pressure, diabetes, celiac disease, irritable bowel syndrome, gastroparesis and weight management. For these clients, food choices can help them manage their health problems.
By: Rita P. Smith, MS, RD, CDE, Sentara Martha Jefferson Hospital
---