Coping with Anxiety and the Unknown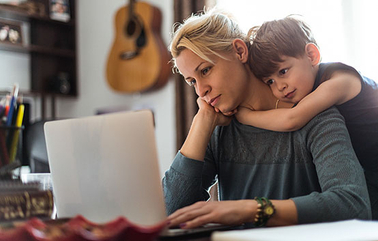 When life goes according to plan, feeling content, organized, connected and on-task is easy, but when something changes your course, your stability and security can come to a halt.
Finding your footing again may be a slow process, but you can do it with the help of others and by steering your thinking in a positive direction.
About a third of U.S. adults will experience an anxiety disorder at some time in their lives, according to the National Institute of Mental Health. Nearly two in 10 U.S. adults have experienced an anxiety disorder in the past year, the institute estimates.
Because of all the mental and physical side effects of anxiety, finding a way to cope is essential.
Managing anxiety and the unknown
When someone experiences the loss of something that's final, such as a marriage or a loved one, the first thing to realize is that grief symptoms and feelings are natural. Everyone experiences these feelings differently, and emotions will come and go.
One of the first coping mechanisms for anxiety is to open up and talk to a trusted friend or family member. This helps you process your emotions and gives you different insights, whether they come from your confidant or your own new perspective.
If you feel overwhelmed or unable to function, please make an appointment with a professional therapist.
Sometimes we face situations with a lot of unknowns – searching for a new job, being diagnosed with an illness or putting a house on the market, for example. Along with the anxiety these situations produce, we often create a lot of "What if" thinking. This can cause us to spiral down to worst-case scenarios, which only deepens anxiety.
Mindfulness techniques
To fight back against "what if" thinking, ground yourself in the present and think about "what is," instead.
To accomplish this, use mindfulness techniques, such as listing:
Five things you see

Four things you hear
Three things you touch
Two things, you smell
One thing you can taste
Another mindfulness technique is to list all of the positives in your life and aspects that make you feel grateful. Refer to this list when your mind starts to wander.
To stop repetitive, unhealthy thoughts, reach out to a friend or family member to talk. Going for a walk or engaging in any pleasurable activity can be a helpful distraction, as well.
We encourage you to speak to a behavioral health expert at Sentara if you or a family member feel you would benefit from professional guidance. We're here to help.
Denise Hall, Ph.D., CBC, is a licensed clinical psychologist with Sentara Comprehensive Weight Loss Solutions
By: Denise Hall, Ph.D., CBC, Licensed Clinical Psychologist
---