Delicious Fats for Good Health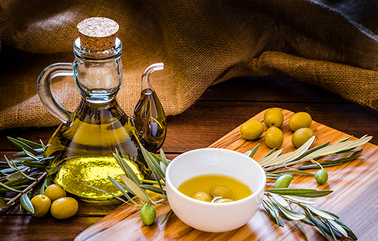 For many years, dietary fats have been seen as villains that need to be vanquished from our diets. But as nutrition researchers have learned more about the nutritional composition of fats, it is now recognized that they can play an important role in our diet. Fats are essential for life, good health and delicious, satisfying meals. Let's learn more about the benefits of fats.
Dietary fats are important for the health of the human body.
Fats are part of hormones that regulate body functions.
Essential fat-soluble Vitamins A, D, E and K can only be obtained through the diet.
Fats carry the essential fatty acids linoleic acid and alpha-linoleic acid.
Enjoy a variety of flavorful and healthful fats each day such as
Liquid Oils
Avocado
Canola
Corn
Grapeseed
Olive
Sesame
Soybean
Sunflower
Walnut
Nuts and Nut Butter
Almonds
Brazil nuts
Pecans
Pine nuts
Pistachios
Soy nuts
Walnuts
Fatty fish
Anchovies
Mackerel
Rainbow trout
Salmon
Sardines
Tuna
Once upon a time there were trans fats in our food supply. They are byproducts of taking a liquid oil and adding hydrogen (the hydrogenation process) to make a more solid fat like stick margarine and shortening. These trans fat raise LDL-cholesterol, potentially causing early plaque development in artery walls, as well as and inflammation. In 2018 the FDA notified the food industry that trans fats would not be allowed to be added to our foods. That is good news!
Include a variety of fats in your diet, because there are different beneficial components - and flavors - to different fats. Sesame oil adds zip to oriental dishes. Extra-virgin olive oil is delicious in homemade salad dressings. Neutral-tasting oils like corn or canola are good for baking. Walnut oil is tasty drizzled over vegetables. Chopped nuts are good toppers for cereals and salad. Nuts can be added to stir fry dishes. And nut butters make an easy vegetarian sandwich.
By: Rita P. Smith, MS, RD, CDE, Martha Jefferson Hospital
---