Enjoy Mushrooms for Your Health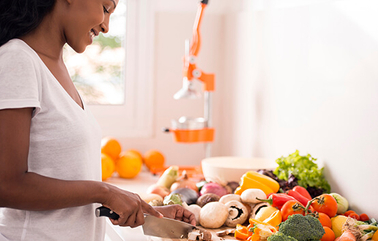 We talk a lot about the health value of a variety of vegetables because of their content of vitamins, minerals, antioxidants, phytochemicals and fiber. And the USDA Dietary Guidelines for Americans recommend that adults get in two cups or more of a variety of vegetables each and every day. Penn State researchers published study data in the Advances in Nutrition journal noting a benefit to the inclusion of mushrooms in the diet for cancer prevention. The data was gathered from 17 cancer studies that included information on 19,500 cancer patients.
The bottom line from the Penn State study data was: eat more mushrooms! In those people who had the highest intake of mushrooms, they experienced a 45% lower risk for cancer, especially breast cancer. Breast cancer risk was the type of cancer evaluated the most in the studies. How big a serving offers benefits? With a modest intake of 2 tablespoons of mushrooms per day, there was a reduced risk for cancer in these studies.
There seem to be a variety of nutritional benefits to mushrooms: They provide a good source of:
Selenium, a mineral that protects cells from damage
Ergothioneine, an antioxidant that helps boost the immune system
Potassium, a mineral needed to help control blood pressure
A variety of B-vitamins to support energy and metabolism
Mushrooms contain zero fat, zero cholesterol and only 15 calories in 1 cup chopped or sliced. They can be used in so many ways and in a variety of recipes. There are also many types to select from in the grocery store including portobello, cremini, button, shiitake, and porcini.
How to add mushrooms into your diet?
At sliced or chopped mushrooms to breakfast egg dishes like an omelet or frittata.
Slice fresh mushrooms into salads.
Chop and add mushrooms to bread stuffing.
Large Portobello mushrooms can be grilled whole – a great vegetarian replacement for burgers.
Add sliced mushrooms to stir fry dishes, soups and stews, veggie lasagna and pasta primavera.
Whole mushrooms can be dipped into a Greek yogurt herb dip or marinated in an oil-vinegar dressing.
Mushrooms can be chopped or diced to replace part of the ground beef in recipes. It acts as a filler providing the same texture as ground beef in burgers, tacos, meatloaf and meatballs, reducing the overall calories and saturated fat content of the dish.
__
About the Author
Rita Smith is a Registered Dietitian and Certified Diabetes Educator. She's been working in the field of nutrition and disease prevention for more than 35 years and currently works at Sentara Martha Jefferson Hospital in Charlottesville, Va. Each week, Rita provides nutrition counseling to clients who have a variety of disorders or diseases including high cholesterol, high blood pressure, diabetes, celiac disease, irritable bowel syndrome, gastroparesis and weight management. For these clients, food choices can help them manage their health problems.
By: Rita P. Smith, MS, RD, CDE, Sentara Martha Jefferson Hospital
---