Innovative Material Speeds Up Healing For Torn Ankle Ligaments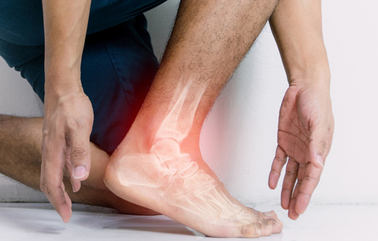 Our ankles put up with a lot - twisting, rolling, turning, stopping suddenly and balancing on uneven surfaces.
That's why it's not surprising most of us have suffered an ankle sprain at some point in our lives. Sprains occur when these motions stretch or tear ligaments that hold our ankle joints together. Ligaments are tough bands of tissue that stabilize joints and prevent excessive movement.
"When you sprain an ankle, and it heals, it's typically only 80 percent as strong as it once was," says Jeremy Walters, DPM, a foot and ankle surgeon affiliated with Sentara Obici Hospital with offices in Suffolk and Chesapeake. "If you sprain it again, it's only 80 percent as strong as that. I see patients who've sprained their ankle six times, so it can give out when they step off a curb or are just walking."
For patients with chronic ankle instability (feeling of weakness, instability, ankle swelling) or those who have suffered a serious sprain, Artelon® FlexBand offers a promising option to fix ligament tears and speed up recovery time. With FlexBand, patients can walk in a boot two weeks after surgery instead of keeping weight off the foot for eight weeks.
How does Artelon FlexBand work?
Artelon FlexBand, which reinforces ligament tear repairs, is synthetically made to mimic the body's natural collagen, providing strength and elasticity. Because of its porous nature, the material dissolves in four to six years as regenerated tissue integrates with it and replaces the material leaving the ankle ligament repaired and stronger than ever before.
Used to repair knees, elbows and shoulders for decades, surgeons have recently introduced it to treat the ankle and feet. Because feet consist of 33 joints, they also have a complex web of muscles, ligaments and tendons supporting them.
"The Artelon graft acts as a seatbelt so that when the ankle is twisted, it does not stretch the ligament past its natural endpoint, so it prevents re-tearing of the ligament," explains Dr. Walters. "Unlike other options, this technology slowly incorporates into the ligament and becomes native tissue that thickens and strengthens the ligament repair for long-lasting correction."
In the past, other surgeons repaired ligaments by stitching the ripped ends together, which didn't provide any extra strength and would often stretch back out over time. Surgeons have also used a different synthetic material to reinforce the repair that didn't incorporate into the tissue and could cause problems later for the patient.
'Game-changer' with faster recovery
Artelon FlexBand dramatically speeds up patients' recoveries due to the reinforced repair. On the day of surgery, they can walk in a boot with crutches. Two weeks later, they can walk with the boot and not use crutches. Six weeks after surgery, patients can wear regular athletic shoes with a low-profile brace.
"This is a big game-changer," Dr. Walters says. "It used to be that patients couldn't get in a shoe for ten weeks. Now they can get back in four to six weeks."
Artelon FlexBand patients typically start physical therapy three to four weeks after surgery, says Dr. Walters, the only surgeon in Hampton Roads designated as a master specialist for Artelon.
The quicker recovery means athletes may be able to return to their sport with some of the season left. In addition, people with physically demanding jobs, such as construction or roofing, that are not conducive to using crutches can get back to work much sooner.
"I treat all my patients like athletes," Dr. Walters adds. "There's this mentality that we see the high school or college athlete, and we need to get them back to their sport so they can make the playoffs, but I also think about the roofer who can't repair roofs with a boot on crutches and needs that income. Their return to work is as important or more than your standard athlete."
Who is a good candidate for Artelon FlexBand?
Everyone from youth athletes to high-level athletes, farmers and weekend warriors has benefitted from Artelon FlexBand, Dr. Walters says.
Artelon FlexBand works best for patients experiencing these circumstances:
Ankle weakness or swelling
Complete rupture of ankle ligament
History of multiple ankle sprains
Significant joint laxity
To make an appointment with Dr. Walters to discuss Artelon FlexBand, please call Sports Medicine & Orthopedic Center at 757-547-5145 or visit his website www.DrJeremyWalters.com.
---