Four reasons pregnant moms are encouraged to get the COVID-19 vaccine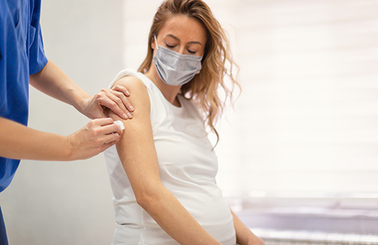 Making decisions to keep themselves and their babies healthy and safe during pregnancy can lead to a lot of anxiety for pregnant moms, who already follow guidelines about what to eat, what medicine to take, how much to exercise, when to travel and so much more.
Now that they are facing decisions about the COVID-19 vaccine, pregnant moms researching whether to receive it are finding mixed messages among the general population, making it hard to sort fact from fiction.
Top maternal and fetal health experts and advocacy groups are on the same page when it comes to the COVID-19 vaccine and pregnancy - the vaccine protects moms and their babies. Maternal health experts also recommend the vaccine for breastfeeding moms. Those who have a history of allergic reaction to any vaccine or injectable therapy (intramuscular, intravenous or subcutaneous) are encouraged to talk with their healthcare provider prior to vaccination.
"We understand how much pressure moms feel to make the right decision for themselves and their babies from preconception to postpartum," says Jennifer Wray, MSN, RN, NE-BC, clinical manager of the Family Birthing Center and Women's Services at Sentara Martha Jefferson Hospital. "It is our duty to get safe and accurate information about the COVID-19 vaccination out there for moms to help keep our patients and their babies safe."
Initially, the Centers for Disease Control and Prevention and other healthcare experts weren't sure what to advise pregnant patients about the vaccine since it had not been tested in that population. But as tens of thousands of pregnant women get vaccinated, they are collecting more and more data in part through the "v-safe" CDC tracking system and are urging patients to get vaccinated.
Here are four reasons to get a COVID-19 vaccination if you are pregnant, breastfeeding, have had a baby recently or are thinking about getting pregnant.
1.) The vaccine reduces the risk of serious illnesses and complications for moms and their babies.
Pregnant and recently pregnant women are at an increased risk of severe illness from COVID-19 compared with non-pregnant people. Severe illness includes:
Hospitalization
Intensive care
Need for a ventilator or special equipment to breathe
Illness that results in death
Women with underlying conditions, such as heart disorders, diabetes or a high BMI, are more at risk for developing severe complications from COVID-19. Pregnant moms who become infected with COVID-19 also have a higher risk of preterm birth.
2.) COVID-19 vaccines protect babies after they are born.
Researchers have found antibodies in umbilical cords and mom's breast milk, demonstrating that babies receive protection directly from their moms if they have been vaccinated.
"After babies are born, they are too young to get a COVID-19 vaccine, so this is a great way for new moms to give their babies an immune system boost," Wray explains.
This is the same advice obstetricians give moms about flu and Tdap vaccines. Tdap vaccines fight against whooping cough, tetanus and diphtheria. Both the flu and Tdap vaccines pass on antibodies to babies. Pregnant women should be vaccinated against the flu during flu season, optimally before flu starts to circulate in the community. Doctors also recommend pregnant women get a Tdap vaccine between 27 and 36 weeks of pregnancy.
3.) COVID-19 vaccines do not cause people to get infected with COVID-19.
COVID-19 vaccines do not contain the live virus that causes COVID-19, so a COVID-19 vaccine cannot make anyone sick with COVID.
"Especially after receiving the second vaccine dose, some people may feel a little under the weather for a day or two, but this means the vaccine is working to build your immune response," Wray says. "It doesn't mean you have COVID."
4.) COVID-19 vaccines have not been linked to miscarriages.
Women's health experts have been working to dispel information circulating on social media that the vaccine affects fertility. No evidence currently suggests that antibodies produced by the vaccines affect fertility, according to data gathered from the v-safe registry and various healthcare systems.
As of August 30, 2021, more than 155,000 v-safe participants indicated they were pregnant when receiving the COVID-19 vaccination.
CDC data also show no increased risk of miscarriage among nearly 2,500 pregnant women who received an mRNA COVID-19 vaccine before 20 weeks of pregnancy. Miscarriage typically occurs in about 11-16 percent of pregnancies. This study found miscarriage rates after receiving the vaccine were around 13 percent, similar to the expected rate of miscarriage in the general population.
"As with any virus, the coronavirus will continue to change as it mutates and infects people, even those who have already had COVID," Wray says. "We believe vaccination plays an important role in keeping our pregnant moms and their babies safe and healthy, and we encourage our pregnant moms to get vaccinated."
By: Lisa Smith
---