Keep up the Home Cooking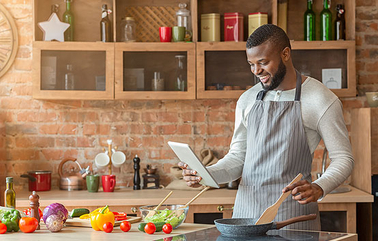 Since the pandemic, more people are preparing their meals from scratch at home. Home cooking can certainly be a health advantage because it puts us in the driver's seat for the choice of ingredients, or we can decide to omit salty ingredients or limit the amount of sugar in recipes. And with tight finances, preparing from home can certainly be budget-friendly.
In a survey of 2,200 consumers, these concerns and thoughts were expressed:
Consumers have recipe fatigue, and want new recipe ideas.
70% want time saving ideas for meal preparation
43% want to spend less meal planning time
Here are a few meal planning tips to make life easier:
Have an organized pantry and freezer so that you know what you have on hand. This will take a little time but once organized, maintenance is simple.
"Shop" the pantry first, using what is available - this cuts your grocery shopping time and list.
Write up weekly menus after referring to the grocery store flier, building around the sale items and what is already in your pantry and freezer.
Write up a grocery list in order of the store layout. You may want to develop a master shopping list so that you can just check or highlight items as you run out during the week. Keep it posted on your fridge.
Meal preparation ideas to ease up your time in prep before the meal:
Cook BIG batches so that you will have leftovers (planned-overs) for other nights and to freeze
Use the slow cooker for stews, soups and pieces of meat
One-dish meals can include the starch, veggies and protein such as soups, casseroles, and stews
Oven-roasted all meal components on a big sheet pan
Let's face it; it does take time to plan, shop for and prepare your own meals. But for so many reasons, there are benefits to those home cooked meals. When I plan out meals for the week - and I still do this even though the kids are long gone from the home - I always plan on cooking maybe three times in the week, but getting at least six to eight meals from those few cooking times. For example:
Meal 1 - spaghetti and meatballs; meal 2 - meatball subs
Meal 1 - pork tenderloin; meal 2 - pork BBQ on whole-grain bun; meal 3- shredded pork on a lunch salad
Meal 1 - baked salmon; meal 2- salmon cakes; meal 3 - salmon chunks on a lunch salad
Note: For each meal it is then easy to switch the vegetables and/or fruits for nutritional variety.
__
About the Author
Rita Smith is a Registered Dietitian and Certified Diabetes Educator. She's been working in the field of nutrition and disease prevention for more than 35 years and currently works at Sentara Martha Jefferson Hospital in Charlottesville, Va. Each week, Rita provides nutrition counseling to clients who have a variety of disorders or diseases including high cholesterol, high blood pressure, diabetes, celiac disease, irritable bowel syndrome, gastroparesis and weight management. For these clients, food choices can help them manage their health problems.
By: Rita P. Smith, MS, RD, CDE, Sentara Martha Jefferson Hospital
---