Lower Sodium/Salt to Reduce High Blood Pressure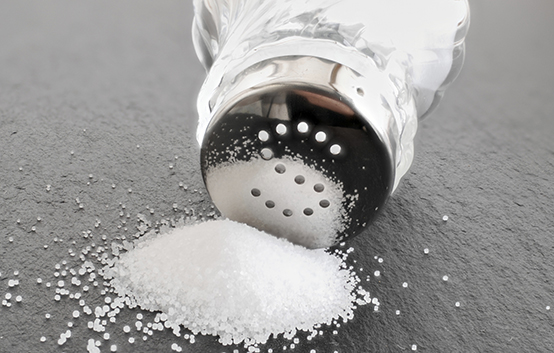 As we know, high blood pressure, when not controlled, causes wear-and-tear on the body and its arteries and many organs such as the kidneys. Anytime we can learn ways to naturally lower blood pressure it is a very good thing.
In a study of 265 participants with average age 57 years, Chinese researchers looked at reduction in dietary sodium intake to see if mildly elevated blood pressure would go down. Reminder: Blood pressure goal is a reading of less than 120/80.
The study participants had a mean blood pressure reading of 139 mm Hg for systolic (the upper reading) and 88 mm Hg for the diastolic (the lower reading). They were provided a diet of three meals lower in fat content, higher in unrefined carbohydrate foods. It provided more potassium and dietary fiber.
The Chinese heart-healthy diet also reduced the usual high intake of 6,000 mg of sodium daily to 3,000 mg daily. The U.S. guideline for sodium is to take in no more than 2,300 mm per day.
The Chinese heart-healthy meals provided in the study included more fruits, vegetables and whole-grains to boost fiber; there was more potassium from the increased produce intake. The sodium change of a 3,000 mg reduction is significant because Chinese cuisine is typically pretty high in sodium.
By making these dietary changes for one month, the study participants on the heart-healthy Chinese diet had a systolic reduction of -15 mm Hg and a reduction in the diastolic pressure reading of -6.7 mm Hg. WOW! Isn't that great? By moving to healthier, less processed foods as well as lowering salt usage, there was an excellent drop in blood pressure without the addition of medication.
It is too easy to automatically season our dishes with salt and then add additional salty condiments such as soy sauce. It takes some creativity to use a variety of herbs, spices, and garlic for a flavor boost. But take a pause before routinely adding salt or salty condiments and flavorings like garlic salt or onion salt. Can you make a switch to garlic or onion powders, for example? You still want flavorful food, just not salty food. Lemon juice and vinegar added to a dish just before serving can do the trick too when you eliminate the salt.
By: Rita Smith, RD
---