Lower Your Blood Pressure to Keep Arteries Healthy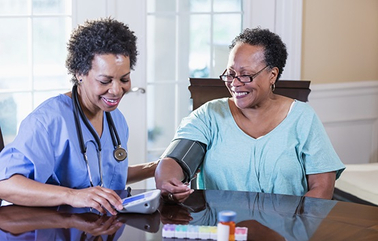 May is National High Blood Pressure Month, recognizing this "silent killer" that impacts one-half million deaths in the U.S. each year. A reminder that blood pressure is the force of blood flowing through our blood vessels. The systolic (top) pressure reading measures the blood pumping out of the heart and into the arteries. The diastolic (bottom) pressure reading is the heart at rest, between heart beats. There are 47% or 116 million adults in this country with high blood pressure but only one in four have their blood pressure in control. Uncontrolled high blood pressure puts wear and tear on the artery walls, and they gather plaque more easily and quickly, leading to narrow arteries with increased risk for heart attack, strokes and heart failure.
These are the risk factors for developing high blood pressure that we CAN control:
Smoking
Alcohol
Overweight and obesity
Physical inactivity
High cholesterol, uncontrolled
Diabetes, uncontrolled
The American Heart Association recommends a heart healthy diet for prevention of cardiovascular disease. Two of the important recommendations to lower blood pressure or to keep blood pressure normal are:
Eat less sodium, keeping sodium to less than 1,500 mg/day
Include more high potassium foods to reach 3,000-5,000 mg/day

1.5-2 cups fruit
2-3 cups vegetables
2-3 cups low-fat or nonfat milk or other dairy products such as yogurt
A recent dietary survey, however, indicates that only 12% of American adults consume the recommended amount of fruits, and only 10% consume the recommended vegetables.
Fortunately all of those risk factors that I previously mentioned we CAN control, striving for blood pressure readings of less than 120/80.
We can be sure to get in a 20-30 minute walk each day.
We can - perhaps with help - quit smoking.
We can lower our alcohol intake.
We can control our diabetes with exercise, watching carb intake and appropriate medications. Blood cholesterol can be managed with a heart healthy diet, exercise and possibly medications.
We are in the driver's seat for reducing our high blood pressure risk. And remember, just because you cannot feel that it is high, does not mean that the high blood pressure isn't damaging your arteries. That is why you want to get blood pressure reading checked as recommended by your health care provider. More information at www.heart.org.
__
About the Author
Rita Smith is a Registered Dietitian and Certified Diabetes Educator. She's been working in the field of nutrition and disease prevention for more than 35 years and currently works at Sentara Martha Jefferson Hospital in Charlottesville, Va. Each week, Rita provides nutrition counseling to clients who have a variety of disorders or diseases including high cholesterol, high blood pressure, diabetes, celiac disease, irritable bowel syndrome, gastroparesis and weight management. For these clients, food choices can help them manage their health problems.
By: Rita Smith, RD
---