Make Time for Dinner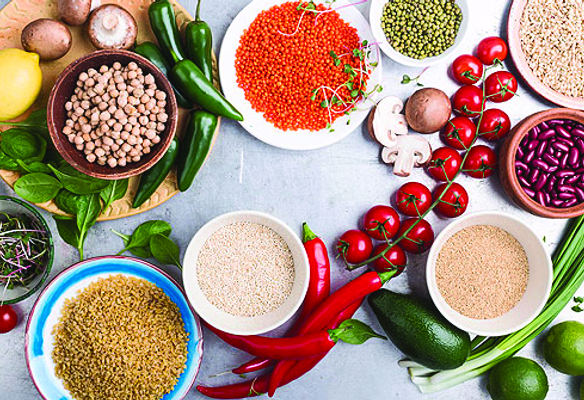 Families are scrambling now that the school year is underway for most in our area. Schedules are busy and it can be challenging to get it all together to have a family dinner. But as we talked about last week, it is very helpful in many ways to sit around the table together, when possible, for a family meal. It is important nutrition-wise to have a balanced and nourishing dinner, but the family connections are also essential for a child's healthy development.
Offer a menu that provides a balanced menu:
Animal and plant-based protein for growth: fish, poultry, beef and pork, eggs, cheese, dried beans and peas, nuts and nut butter.
Starches/grains for energy - potatoes, rice, pasta, tortillas, bread, etc.
Vegetables and fruits to provide vitamins, minerals and fiber.
Beverages such as bone-building milk and water.
Milk for protein and bone-building: skim or 1% milk if over the age of 2 years.
Fats for concentrated energy: salad dressing, oils, mayonnaise, oil spreads.
Make dinnertime easier on everyone:
Everyone can help or pitch-in from setting the table to making the salad.
Make use of the crock pot so that dinner is mostly ready when you walk in the door. All you need to do is add the side dishes.
Cook double batches of dishes such as spaghetti sauce and meatballs and freeze the extras for a simple reheat at a future meal.
Stir frying is a quick meal and easy way to use any vegetables that are on hand.
Have breakfast foods for dinner. They are usually quicker to prepare. Examples include pancakes or waffles and scrambled eggs. Just round out the meal for nutritional balance; for example, adding seasonal fruit.
Make dinners fun!
Eat around the world, preparing foods from different countries. Interesting discussion related to the country can be part of the mealtime conversation.
Highlight a new fruit or vegetable, exploring different ways to prepare and serve them.
Encourage a thank you-no thank you tasting of new foods or familiar foods that a child historically has not liked.
If it is a battle to get the kids to eat because they are not hungry, make sure that there are only planned snacks in-between meals, and not constant grazing. Everyone should be hungry when it is time to eat so that means a snack needs to be at least two hours before dinner.
Other ideas:
Is it hard to get the kids to try something new? Or do they have a long list of foods that they do not like? That's okay. Continue to offer new foods each week and keep serving foods that are not their favorites. It can take kids 10 to 15 tasting tries before liking a new food. We have to give them the opportunity to develop new tastes.
You don't want to be a short-order cook. Provide one meal with a variety of foods that have different colors, tastes and textures; it makes meals interesting and not boring. Each family member should be able to find something that they like to eat.
Avoid "eating ultimatums". Let the children enjoy meals by selecting what and how much of what they want from the assortment of foods provided. Don't withhold certain foods such as dessert until they have finished the meal it places too much importance on these non-nutritious foods.
__
About the Author
Rita Smith is a Registered Dietitian and Certified Diabetes Educator. She's been working in the field of nutrition and disease prevention for more than 35 years and currently works at Sentara Martha Jefferson Hospital in Charlottesville, Va. Each week, Rita provides nutrition counseling to clients who have a variety of disorders or diseases including high cholesterol, high blood pressure, diabetes, celiac disease, irritable bowel syndrome, gastroparesis and weight management. For these clients, food choices can help them manage their health problems.
By: Rita P. Smith, MS, RD, CDE, Sentara Martha Jefferson Hospital
---