Peripheral Artery Disease Treatment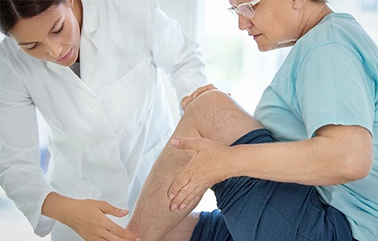 A diagnosis of peripheral artery disease can come as a shock. But the disease isn't rare. Some 6.5 million people over age 40 in the United States have peripheral artery disease (PAD).
If you've recently been diagnosed, you may have a lot of questions. A vascular specialist can answer them and help you figure out the next steps, says Samuel N. Steerman, M.D., a board-certified vascular surgeon at Sentara Vascular Specialists.

"PAD is a progressive disease," he says. "As a vascular surgeon, I often have lifelong relationships with patients who have PAD. It's not something we can cure, but we have many options to help manage the symptoms."
Peripheral Artery Disease Symptoms & Diagnosis
PAD is caused by blockages in the arteries that carry blood from the heart to other areas of the body. It most commonly affects the legs.
PAD can cause several symptoms in the affected limbs:
Pain in the legs with physical activity
Muscle weakness
Smooth, shiny skin
Hair loss
Sores or wounds on the legs or feet that don't heal
Cold or numb toes
"The most common symptom is leg pain while walking, but PAD can cause other problems related to poor blood flow to the legs and feet," Dr. Steerman says.
To diagnose PAD, your doctor will probably recommend a painless, noninvasive test called an ankle-brachial index (ABI) to measure the blood pressure in your foot. This test, performed in a peripheral vascular lab, can reveal whether the blood flow to your leg may be partially blocked.
Peripheral Artery Disease Treatment
Patients and doctors have a lot of options available to treat PAD. "As vascular specialists, we have three main options," Dr. Steerman says. Those options are medication and lifestyle changes, minimally-invasive procedures and surgery.
Medical Management and Lifestyle Changes
Doctors can prescribe medications to ease PAD symptoms and prevent the disease from getting worse. Lifestyle changes, such as exercising and quitting smoking, can also improve symptoms, Dr. Steerman says.
Physical therapy is also a good option for many people with early PAD. "At Sentara, we've implemented a PAD physical therapy program, or vascular rehabilitation," he says. "It's a 12-week, walking-based program that can help patients walk farther with less pain."
Minimally-Invasive Procedures
When medications aren't enough, some people with PAD may benefit from catheter-based procedures to open the arteries and restore blood flow to the legs. These include:
Balloon angioplasty: A doctor threads a thin tube, or catheter, into the artery and inflates a balloon to open the blocked area. The doctor may then place a stent into the artery to keep it open.
Atherectomy: The doctor uses a catheter to remove plaque buildup from inside the artery to remove the blockage.
Both procedures are often done in less than an hour, and patients can usually return home the same day. "There's not a lot of downtime," Dr. Steerman says.
Surgery
People with more severe blockages may benefit from peripheral artery bypass. Surgeons take a healthy vein from another part of the body, or use an artificial vein, to reroute blood flow around the blocked artery.
Together, you and your doctor will discuss your options and find the best treatment for you. The earlier you get treatment for PAD, the better.
"It's very important to talk to your primary care doctor if you have leg pain while walking, you have a wound on your leg or foot that's not healing, or you notice black spots on your toes," Dr. Steerman says. "When patients quit smoking and start taking the right medications, it makes a big difference in keeping the disease from advancing."
PAD Treatment at Sentara Vascular Specialists
Managing PAD can feel stressful at times. To help ensure patients get the comprehensive care they need, Sentara Vascular Specialists has a dedicated PAD Center. The experienced doctors, nurses and providers at the PAD Center work closely with other experts, such as heart specialists and diabetes care specialists, to provide outstanding care for the whole person.
"PAD can be complex," Dr. Steerman says. "We established the PAD Center to guide patients through both medical care and any procedures they may need. We make sure to manage their PAD and overall health in the best way possible."
Sentara Vascular Specialists is one of the largest vascular groups in the region, with locations in Virginia Beach, Norfolk, Williamsburg and beyond. If you've been diagnosed with PAD, reach out to the experts at Sentara Vascular Specialists, a department of Sentara Norfolk General Hospital. Call 757-395-1600 to make an appointment.
By: Samual Steerman, M.D.
---