Plan to be a Healthy Vegetarian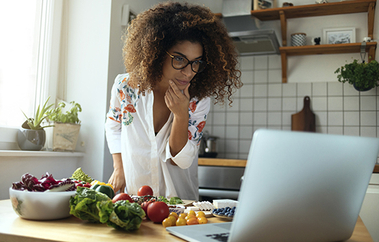 Moving toward more plant-based menu planning has been a positive food trend in the U.S. In consumer surveys, 70% state that they have tried plant-based meat and milk alternatives. There are certainly more options in the grocery stores, and even restaurants, including fast food establishments, offer meatless dishes. The improvement in the texture, taste and affordability of various vegetarian and plant-based foods is part of the reason for this trend.
Baby Boomers are interested in plant-based for health reasons; younger folks are interested from the environmental standpoint. Research shows, however, that there is a difference in the nutritional quality of vegetarian diets. Some are healthy and others not so much.
University of Athens, Greece researchers assessed the diets of 146 obese adults who were eating a vegetarian diet. At the start of this 10-year study, these people had normal blood pressure, normal cholesterol, and were without diabetes or heart disease. Ten years later diet quality was assessed as well as health status. For those who were eating a diet comprised of healthier foods, blood pressure and cholesterol were more likely to still be normal, and there was a lower incidence of both diabetes and heart disease. The healthy foods included:
Whole-grains
Fruits and vegetables
Fat sources that included olive oil and nuts
Tea and coffee
Fewer processed foods
On the other hand, for those vegetarians who were eating more unhealthy foods, there was a higher incidence of high blood pressure, high cholesterol, and high glucose levels, putting them at risk for developing heart disease and diabetes. The unhealthy foods regularly consumed were identified:
Juices and sweet beverages (sodas, sweet tea, etc.)
Refined grains
All forms of sweets
Just because we choose to become vegetarian and skip meats and other animal products does not automatically mean we end up with a healthy nutrition profile to our diet. Many folks fill in the animal protein gaps with refined carbohydrates and highly processed foods. For example, a person might skip eggs and breakfast meats in the morning but eat a sugary bakery treat instead, which will spike glucose levels. White bread may be vegetarian but it is also without the beneficial fiber that you would find in a whole-grain bread option. Teenagers often choose to be vegetarian which for some means a coke and big white bagel for a vegetarian lunch but it has limited nutritional value.
Be well-informed when you move to more vegetarian meals. It can be a wonderful way to eat for overall health and chronic disease prevention if you are making wise choices.
About the Author
Rita Smith is a Registered Dietitian and Certified Diabetes Educator. She's been working in the field of nutrition and disease prevention for more than 35 years and currently works at Sentara Martha Jefferson Hospital in Charlottesville, Va. Each week, Rita provides nutrition counseling to clients who have a variety of disorders or diseases including high cholesterol, high blood pressure, diabetes, celiac disease, irritable bowel syndrome, gastroparesis and weight management. For these clients, food choices can help them manage their health problems.
By: Rita P. Smith, MS, RD, CDE, Sentara Martha Jefferson Hospital
---