How healthy eating can reduce the risk of prostate cancer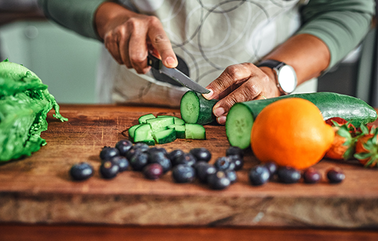 Our diets affect our health in numerous ways, and cancer is no exception.
One in eight men in the U.S. will be diagnosed with prostate cancer this year. The average age of diagnosis is 66 years.
Prostate cancer is the most common cancer in men after skin cancer. Aging and family history are known risk factors. According to a recent Canadian study, a diet high in processed foods and carbs also can play a role.
Canadian researchers assessed the dietary patterns of 1,900 men with prostate cancer and 1,900 without prostate cancer. The average age of the participants was 65.
Researchers found a decreased risk for prostate cancer in those with a "Healthy Eating Pattern," defined as being high in:
Fruits and vegetables
Soy
Fish
Nuts
Whole-grains
The researchers found that there was an increased risk for prostate cancer in those men eating a Western Eating Pattern. This included foods such as:
Muffins
Pizza and pasta
Cereals (generous servings)
Cookies and pastries
Snack chips and ice cream
Sweet soft drinks
This analysis of dietary patterns in men with and without prostate cancer really sheds a light once again on those foods that seem to offer disease protective nutrients. The study's Healthy Eating Pattern included foods with nutrients such as antioxidants, polyphenols, vitamins, minerals, healthy fats (in fish and nuts), and natural fiber found in less-processed foods such as fruits, vegetables, nuts and whole-grains.
On the other hand, the study's Western Eating Pattern that included lots of processed carbohydrates with minimal fiber or few nutrients may work negatively by spiking glucose levels causing inflammation and cancer cell promotion. Highly processed foods with lots of sugar and salt can also reduce the healthful bacteria in the intestinal tract that protect us from a variety of chronic diseases, including cancer.
So, as I always suggest, a plant-based diet with fewer highly processed foods seems best for cancer prevention. And keep up with the regular prostate cancer screenings as recommended by your health care provider, especially if you have a close relative with prostate cancer.
__
About the Author
Rita Smith is a registered dietitian and has been working in the field of nutrition and disease prevention for more than 35 years and where she worked at Sentara Martha Jefferson Hospital in Charlottesville, Va. Each week, Rita provided nutrition counseling to clients who have a variety of disorders or diseases, including high cholesterol, high blood pressure, diabetes, celiac disease, irritable bowel syndrome, gastroparesis and weight management. For these clients, food choices can help them manage their health problems.
By: Rita P. Smith, MS, RD, Sentara Martha Jefferson Hospital
---