Psychological Evaluation for Bariatric Surgery: What Is It? Do I Need It?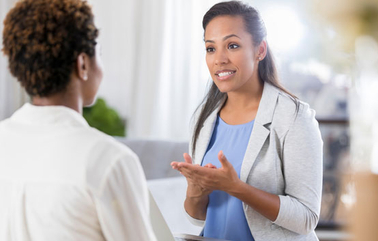 Society continues to make great strides in accepting and including people from all walks of life, regardless of race or gender. But even as progress pushes forward in many areas, people who are overweight and obese still find themselves stigmatized, judged and discriminated against.
Perhaps you've felt belittled, even by a healthcare provider. At Sentara, our weight loss experts know how hard living with excess weight can feel, especially if you've been teased — or worse.
Our psychological evaluation for bariatric surgery is not meant to place a roadblock in your weight loss pursuit. Rather, it helps identify issues that can hinder success.
Compassionate care to help maximize weight loss
At Sentara, we're sensitive to the fact that you may have had negative experiences in the past with healthcare providers. Perhaps those experiences caused you to avoid care altogether.
As you prepare for weight loss surgery, our bariatric psychologists help you with any mental health issues tied to society's "fat shaming." We listen to your needs. We work to put your mind at ease, explaining your surgical options and the lifestyle changes each requires.
If needed, we help you set goals that support keeping weight off after surgery. We can also refer you to other Sentara resources, to overcome challenges that may prevent you from having weight loss surgery. You can get help with depression or an eating disorder, for example.
Bariatric psychological evaluations at Sentara
To qualify for weight loss surgery at Sentara, you must complete a simple bariatric psychological evaluation. It determines your readiness for the lifestyle changes needed after weight loss surgery, as well as your acceptance of them. As part of this process, you'll complete a packet that gathers information related to:
Your living situation
Personal eating habits
Treatment for any mental health disorders
History of any eating disorders
Supportive or coping mechanisms you use
A bariatric psychologist reviews your responses and meets with you one-on-one to discuss what you've shared. This interview generally lasts about two hours. You'll discuss your motivations for weight loss surgery, your mental health and what factors contribute to your struggle with weight. The psychologist also examines your current eating behaviors, such as the quantity of food you consume and whether you skip meals.
By gathering this information, we can help you succeed at losing weight, in a safe and healthy manner.
By: Sentara Weight Loss Staff
---