Raising Awareness of Brain Health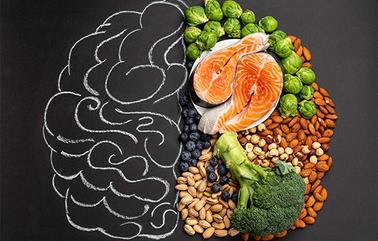 June is National Alzheimer's and Brain Awareness Month, a time to bring attention to the lifestyle habits that may impact brain health down the road. Alzheimer's Disease advances over time and years before we see its devastating effects on the person diagnosed with the disease. Right now more than 5.5 million American live with Alzheimer's Disease and researchers project this number will increase to 12.7 million by 2050.
This degenerative brain disease results from cellular damage, and plaque and tangle development in the brain.
Let's learn more.
These are the known risk factors for developing Alzheimer's Disease:
Aging
Smoking
Uncontrolled chronic diseases such as high blood pressure, diabetes and cardiovascular disease
There seems to be brain protection with
Regular physical exercise which may result in

fewer plaques and tangles in the brain
better control of high blood pressure, reducing the risk for strokes
better control of blood glucose levels, resulting in less inflammatory damage from blood glucose spikes or chronically high glucose
Eating well to reduce inflammation and improve the gut microbiome. Include servings of


Leafy greens such as spinach, kale, mustard greens
All fruits, especially the colorful fruits such as blueberries, blackberries and raspberries
A variety of whole-grains such as oats, whole wheat, barley and rye
A diet rich in colorful fruits and vegetables, whole grains, nuts and beans may provide anti-inflammatory nutrients, protective antioxidants, and inhibit the beta-amyloid deposits found in the brain of those with Alzheimer's Disease. These foods also do not spike glucose levels, which leads to inflammation and distress in the body. For example, berries are a much better fruit choice than drinking a fruit juice. Researchers also suggest reducing intake of red meats, butter, sweets, fried foods and fast foods that are high in salt and fats.
If you have Alzheimer's Disease in your family, it makes good sense to evaluate your own lifestyle risks for this disease. Are you a regular - almost daily- exerciser? Do you avoid smoking? Are you managing well your chronic diseases? Do you keep up with your health care appointments so that any diseases and disorders are under control?
__
About the Author
Rita Smith is a Registered Dietitian and Certified Diabetes Educator. She's been working in the field of nutrition and disease prevention for more than 35 years and currently works at Sentara Martha Jefferson Hospital in Charlottesville, Va. Each week, Rita provides nutrition counseling to clients who have a variety of disorders or diseases including high cholesterol, high blood pressure, diabetes, celiac disease, irritable bowel syndrome, gastroparesis and weight management. For these clients, food choices can help them manage their health problems.
By: Rita P. Smith, MS, RD, CDE, Sentara Martha Jefferson Hospital
---